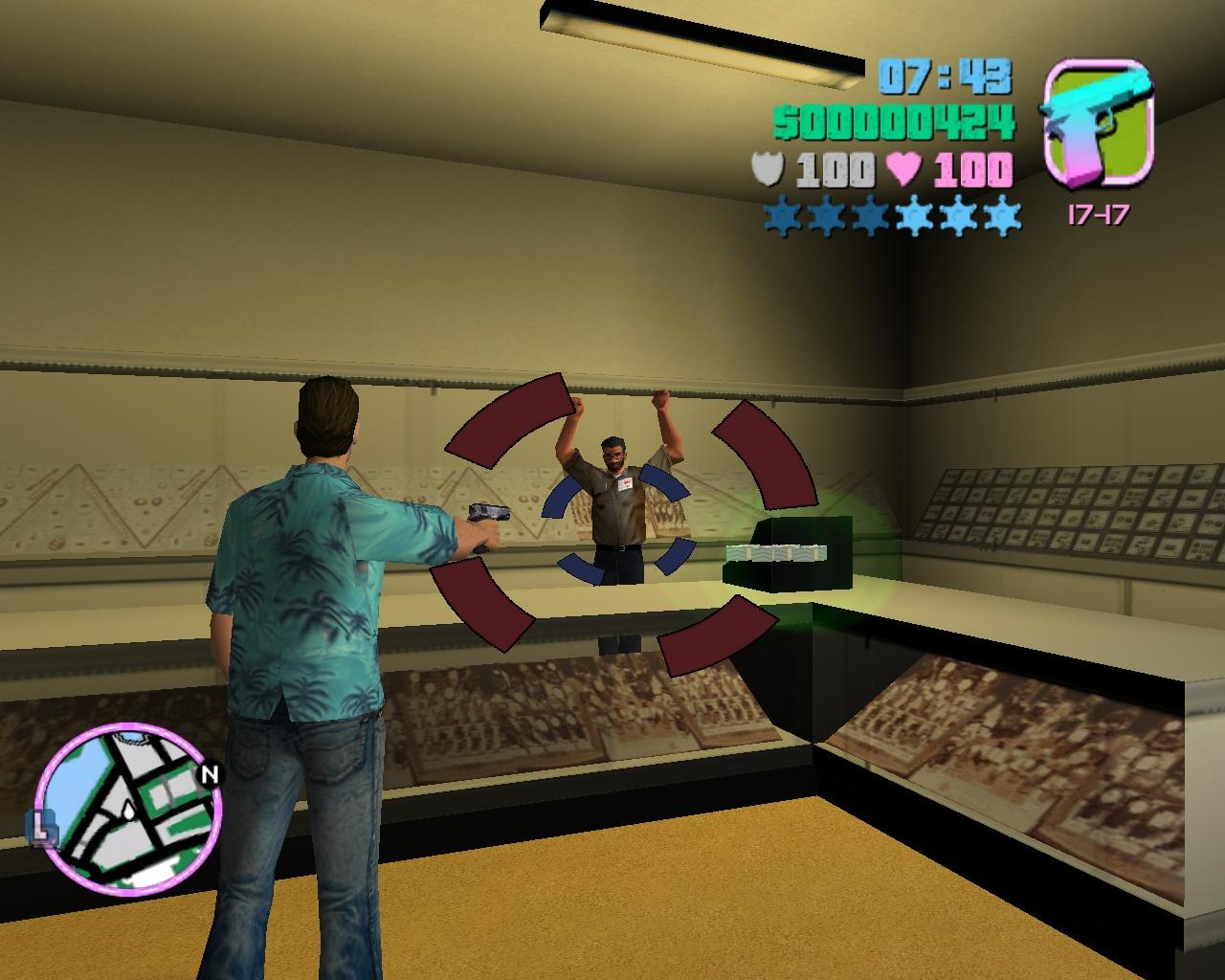 Store Robberies are an Activity in GTA Vice City.
Hold up stores in Vice City for a bit of extra cash.
This is an optional endeavor, but it is required for 100% completion of the game. It's not time-sensitive, meaning it can be played at any point, even after the main storyline is completed.
This side activity is also present in GTA San Andreas.
Store Robberies -
Activity

Details:

Robberies are an activity present in Grand Theft Auto: Vice City, allowing the player to steal money from some businesses in Vice City.

There are fifteen stores across Vice City that Tommy is free to enter and hold up. To start a robbery, the player must enter a store aiming any firearm on the cashier. If the player stops aiming at the clerk, they will sound the alarm and duck under the counter, so the player must keep threatening the cashier until money begins appearing on the counter.

Persistently holding the aiming reticule on the cashier will increase the cash received but will also increase the wanted level attained by the player. Therefore:
The first cash drop earns $50 and a delayed two-star wanted level.
The following cash drop earns an additional $100 and a two-star wanted level.
The third cash drop earns $250 (for a total of $400) and a three-star wanted level.
The last cash drop earns an extra $600 (up to $1000) with the wanted level remaining at three stars.
Robbing all of the 15 stores in Grand Theft Auto: Vice City is required for 100% Completion of the game and awards the "Put 'Em Up" Achievement.
GTA Vice City Robberies: Store Locations
Vice City Beach
Bunch of Tools, Washington Beach
The Jewelers, Vice Point, North of Well Stacked Pizza
Corner Store, between El Swanko Casa and the North Point Mall
Dispensary, Vice Point, West from the Corner Store
Gash, North Point Mall (ground floor counter)
Tooled Up, North Point Mall
Vinyl Countdown, North Point Mall
Family Jewels, North Point Mall
Vice City Mainland
The Jewelers, Downtown, east of Well Stacked Pizza Co.
Dispensary, Downtown, East from Rock City
Ryton Aide, Little Haiti
Brownstone Laundromat, Little Havana
Cafe Robina, Little Havana
Screw This, Little Havana
Calleggi Delicatessen Restaurant, Little Havana, North of Little Havana VCPD
Store Robberies: Activity Info
Mission Type

Activity

Location

Various Locations

Required for 100%

Yes
Rewards

Up to $1000 for every store held up.
Store Robberies: Video Walkthrough