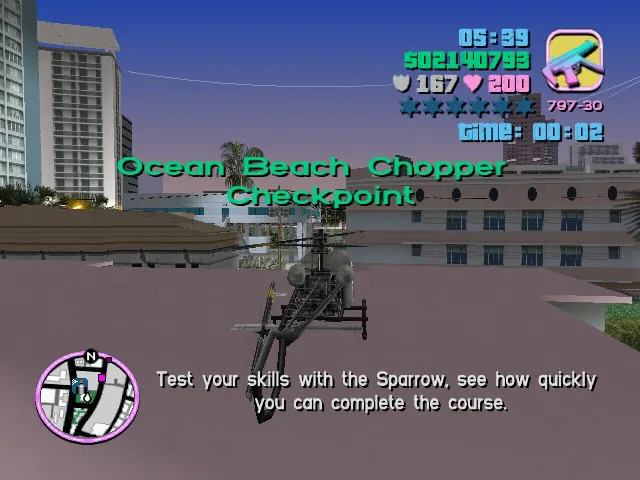 Chopper Checkpoints are a Side Mission in GTA Vice City. It becomes available after completing Rub Out and G-Spotlight .
Fly the Sparrow helicopter through a series of checkpoints.
This is an optional endeavor, but it is required for 100% completion of the game. It's not time-sensitive, meaning it can be played at any point, even after the main storyline is completed.
Chopper Checkpoints - Mission Details:
The Chopper Checkpoints side-missions are a series of 4 side missions involving Sparrow helicopters.
In these missions, the player has to fly a chopper through a series of air checkpoints. The tasks do not have a time limit.
The first three missions are unlocked after Rub Out, while the last mission is unlocked after completing G-Spotlight. Every completed course awards the player $100.
Missions
| Location | Position | No. Checkpoints |
| --- | --- | --- |
| Ocean Beach | On the roof of Apartment 3C. | 17 checkpoints |
| Vice Point | South-Central open park area. | 17 checkpoints |
| Little Haiti | Roof East, behind Kaufman Cabs | 22 checkpoints |
| Downtown | On building east of VCPD HQs | 29 checkpoints |
Chopper Checkpoints: Mission Info
Mission Type

Side Mission (optional)

Location

Ocean Beach; Vice Point; Little Haiti; Downtown (Vice City)

Available After Mission (Story Mode)

Required for 100%

Yes
Chopper Checkpoints: Video Walkthrough
Original Game Walkthrough (PS2, Xbox, PC):
The Definitive Edition Remaster Walkthrough: