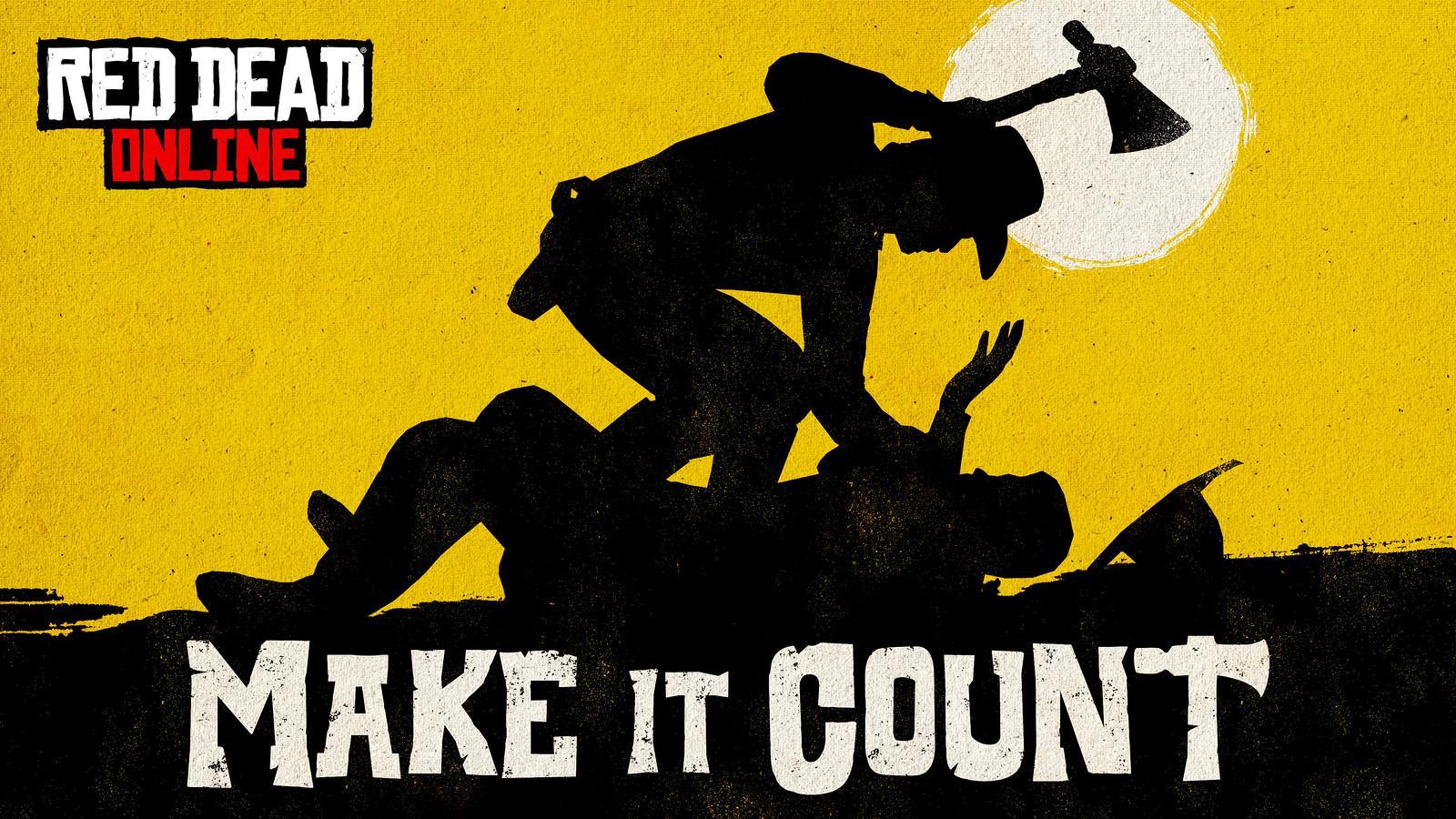 Make It Count - Ancient Tomahawk is a Showdown Mode in Red Dead Online. It has been added to the game with the 1.09 May 2019 update on May 21, 2019.
This is a Free For All mode that can be played by 2 to 16 players. You only have one life.
Take down your enemies silently by throwing the Ancient Tomahawk or getting up-close and personal. The last one standing wins.
Make It Count is one of Red Dead Online's Battle Royale modes. Unlike Gun Rush, in Make It Count weapons are limited to only a specific type.
In this variation, the only available weapons are Ancient Tomahawks. The mode is also available to play in a Bow and Arrow variation and Throwing Knives variation.
Make It Count Tips:
Weapons in this mode are one-hit kill, so don't waste your time lining up a headshot.
Idling or staying in the same place for too long will expose your blip to other players. You can use this to your advantage to bait others to your location.
A true test of resourcefulness: use nothing but Ancient Tomahawks to be the last one standing. With a gradually shrinking player area, there's nowhere to run.
Make It Count - Ancient Tomahawk: Job Details
Game Mode

Showdown Mode

Location

Beaver Hollow; Bayou; Gaptooth Breach; Spider Gorge

Job Variation

Free For All

Players

2 - 16

players

Weapons

Ancient Tomahawk

Number of Lives

1 Life

Weapons Setting

Forced Weapons
Notes

This mode was made available in Red Dead Online on May 21, 2019 as PS4 Early Access, then made available for Xbox One players on June 25, 2019.
Make It Count - Ancient Tomahawk: Release Details
Make It Count - Ancient Tomahawk: Locations
This game mode can take place in the following map locations / variations:
Bayou
Beaver Hollow
Gaptooth Breach
Spider Gorge
...
Screenshots
Coming soon.
Videos