Team Shootout (Deathmatch) is a Showdown Mode in Red Dead Online.
This is a Team mode that can be played by 4,2 teams of 2 to 32 players. You have an unlimited amount of lives.
A classic team gunfight with unlimited lives. Compete as a team to rack up the most kills before the timer runs out. Sudden death will trigger in the event of a tie: whichever team gets the first kill wins.
Team Shootout Tips
Artillery can often be found on the fringe of the battlefield - Cannons and Maxim Guns can be highly effective weapons for flushing enemies out from strong positions.
Don't forget that you're able to revive downed teammates, which can make all the difference when it comes to reducing the enemy's final score.


Team Shootout (Deathmatch): Job Details
Team Shootout (Deathmatch): Release Details
Team Shootout (Deathmatch): Locations
This game mode can take place in the following map locations / variations: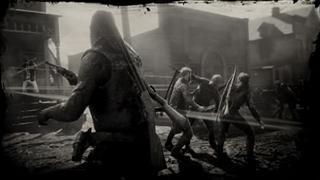 Saint Denis Docks
2 Teams