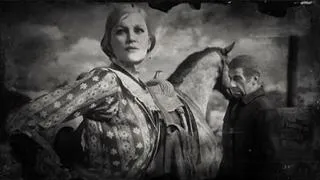 Kill Them, Each and Every One is a Story Mission in Red Dead Online, given by Mr. Horley and Jessica LeClerk.
This is a Team mode that can be played by 2 to 4 players. You and your team have 3 shared lives to complete the mission.
You were told to meet Horley and Mrs. LeClerk south of Armadillo.

Teddy Brown, the suspected murderer of Jessica LeClerk's hubsand, is holed up at Fort Mercer and under siege by marshals.
Mission Objectives
The following are the Mission Objectives required to obtain the Gold Medal in the mission "Kill Them, Each and Every One":
Complete the mission in under 10 minutes 30 seconds
Enemies killed
Enemies taken out with headshots
Lives Lost
Avoid taking damage
Kill Them, Each and Every One: Job Details
Game Mode

Story Mission

Mission Number

9

Mission Giver

Mr. Horley, Jessica LeClerk

Location

Armadillo; Fort Mercer

Job Variation

Team

Number of Teams

1

teams

Players

2 - 4

players

Number of Lives

3 Team Lives

Weapons Setting

Standard Weapons
Featuring

Teddy Brown
Kill Them, Each and Every One: Release Details
Videos