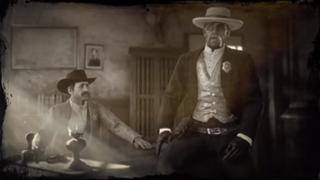 Bring a Goddamn Posse is a Story Mission in Red Dead Online, given by Marshal Tom Davies . This mission is only available to players who are Honorable. It has been added to the game with the 1.09 May 2019 update on May 14, 2019.
This is a Team mode that can be played by 2 to 4 players. You and your team have 3 shared lives to complete the mission.
Marshal Davies has requested your assistance. Alfredo Montez's men are about to turn Valentine upside down looking for him.
Mission Objectives
The following are the Mission Objectives required to obtain the Gold Medal in the mission "Bring a Goddamn Posse":
Complete mission in under 11 mins 15 secs
Blow up the War Wagon in under 3 minutes
Enemies Killed
Enemies taken out with headshots
Lives remaining
Damage taken
Bring a Goddamn Posse: Job Details
Bring a Goddamn Posse: Release Details
Videos