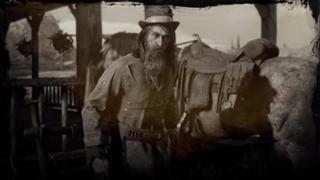 The Hanging of Tom Davies is a Story Mission in Red Dead Online, given by Old Man Jones. This mission is only available to players who are Honorable. It has been added to the game with the 1.09 May 2019 update on May 14, 2019.
This is a Team mode that can be played by 2 to 4 players. You and your team have 3 shared lives to complete the mission.
Help Marshal Tom Davies save Valentine - and his own neck.
Old Man Jones needs your help. Marshal Davies has been taken and it won't be long before he is hanged.
Mission Objectives
The following are the Mission Objectives required to obtain the Gold Medal in the mission "The Hanging of Tom Davies":
Complete th mission in under 8 mins 50 secs
Save Marshal Davies in under 40 seconds
Enemies Killed
Enemies taken out with headshots
Lives remaining
Damage taken
Companion damage taken
The Hanging of Tom Davies: Job Details
Game Mode

Story Mission

Mission Number

11

Mission Type

Honorable Mission

Mission Giver

Old Man Jones

Location

Tumbleweed (New Austin)

Job Variation

Team

Number of Teams

1

teams

Players

2 - 4

players

Number of Lives

3 Team Lives

Weapons Setting

Standard Weapons
Featuring

Marshal Tom DaviesSam Freeman

Notes

This mission is only available to players who are honorable
The Hanging of Tom Davies: Release Details
Videos