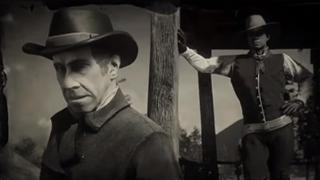 These Bastards Can Fight is a Story Mission in Red Dead Online, given by Samson Finch. This mission is only available to players who are Dishonorable. It has been added to the game with the 1.09 May 2019 update on May 14, 2019.
This is a Team mode that can be played by 2 to 4 players. You and your team have 3 shared lives to complete the mission.
Outwit lawmen to assist Samson Finch in highway robbery.
Go and see Samson Finch. He wants to get preparations underway for a big job.
Mission Objectives
The following are the Mission Objectives required to obtain the Gold Medal in the mission "These Bastards Can Fight":
Complete the mission in under 12 minutes
Enemies stealth killed
Find the wagon with the uniforms in under 3 minutes
Lives remaining
Damage taken
These Bastards Can Fight: Job Details
Game Mode

Story Mission

Mission Number

12

Mission Type

Dishonorable Mission

Mission Giver

Samson Finch

Job Variation

Team

Number of Teams

1

teams

Players

2 - 4

players

Number of Lives

3 Team Lives

Weapons Setting

Standard Weapons
Featuring

Mr. Horley

Notes

This mission is only available to players who are dishonorable
These Bastards Can Fight: Release Details
Videos