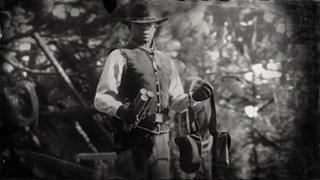 More Than One Way To Earn a Buck is a Story Mission in Red Dead Online, given by Samson Finch. This mission is only available to players who are Dishonorable.
This is a Team mode that can be played by 2 to 4 players. You and your team have 3 shared lives to complete the mission.
Samson Finch told you to meet him near Fort Wallace for more work. He wants revenge on his old company there.
Mission Objectives
The following are the Mission Objectives required to obtain the Gold Medal in the mission "More Than One Way To Earn a Buck":
Complete the mission in under 4 minutes 30 seconds
Enemies killed
Enemies taken out with headshots
Lives Lost
Damage taken
More Than One Way To Earn a Buck: Job Details
Game Mode

Story Mission

Mission Number

8

Mission Type

Dishonorable Mission

Mission Giver

Samson Finch

Location

Fort Wallace (Cumberland Forest, New Hanover)

Job Variation

Team

Number of Teams

1

teams

Players

2 - 4

players

Number of Lives

3 Team Lives

Weapons Setting

Standard Weapons
Featuring

Old Man Jones

Notes

This mission is only available to players who are dishonorable
More Than One Way To Earn a Buck: Release Details
Videos