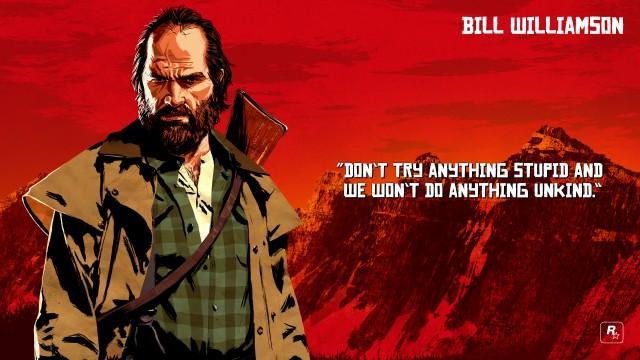 Bill Williamson is an ex-cavalry soldier who was dishonorably discharged from the army in his early twenties.
He then turned to a life of violence, drinking, intimidation and murder. He met Dutch five years ago and has been a member of his gang ever since. Dutch took Bill under his wing and saved him from himself.
Hot-headed and easily angered, he tends to act first and think later - but is tough, loyal and always ready fight.
Character Information
Role

Companion

Gender

Male

Born In Year

1866 (33 years old in 1899)

Nationality

United States

Affiliation

Van der Linde Gang

Weapon

Bolt-Action Rifle

Horse

Bay Roan Ardennes
Performer / Actor

Steve J. Palmer
Mission Appearances
As Mission Giver

As Featured Character
"Don't try anything stupid and we won't do anything unkind."
Screenshots
Artworks