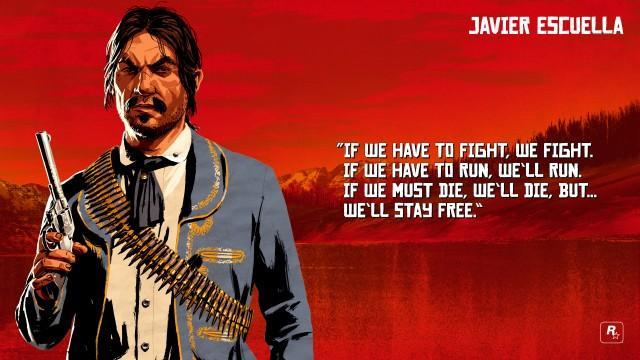 A notorious bounty hunter and Mexican revolutionary from Nuevo Paraíso, Javier Escuella was forced to flee his country after killing a high-ranking army officer over a woman and cannot return until there has been change in power.
He joined up with the gang about four years ago and immediately found a strong connection to Dutch's ideals. A very committed and passionate man, Javier is unquestioning in his loyalty to Dutch, perhaps sometimes to a fault, and is one of his most dependable recruits.
Somewhat vain, he takes a lot of care over his appearance and is always immaculately presented.
Character Information
Role

Companion

Gender

Male

Nationality

Mexico

Affiliation

Van der Linde Gang
Performer / Actor

Gabriel Sloyer
Appearances
As Mission Giver

In Story Missions
"If we have to fight, we fight. If we have to run, we'll run. If we must die, we'll die, but... We'll stay free."
Screenshots
Artworks