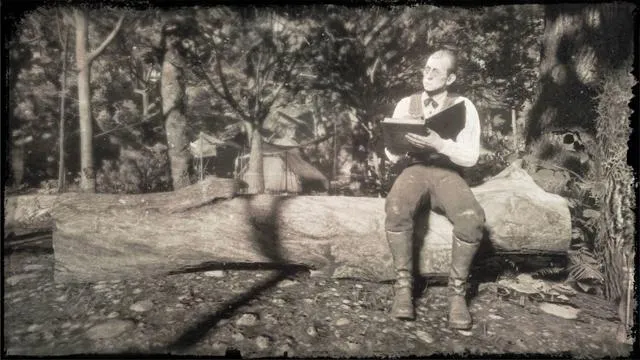 Money Lending and Other Sins - I & II is an optional story mission in Red Dead Redemption 2 given by Leopold Strauss, as part of Chapter 2 .
It's the 17° mission in chronological order of the RDR2 story mode, played with protagonist Arthur Morgan.
While optional for story progression, this is an Optional Honor Mission required for the "Lending a Hand" Trophy/Achievement. It's a time-sensitive and missable mission, so it can only be played at this specific point in the story.
Money Lending and Other Sins - I & II - Mission Details:
At the camp, Strauss asks Arthur to retrieve money from debtors.
Wróbel lives in a small house found in the middle of a marked area, just west of camp. Confront him, then loot his house to settle the debt. Note that you can also take his horse from the stable outside.
You will find Chick Matthews under a wooden canopy, in the marked area to the west of Emerald Ranch. To identify him, you first need to talk to the man sitting on a nearby uprooted tree. Matthews uses this opportunity to get away on horseback.
Immediately gallop alter him; as soon as you catch up, stop him with the lasso. You can also kill him, though this leads to an honor loss. Either way, you will then obtain a treasure map, which you can examine by selecting it in your satchel. After viewing the treasure map, head to the waypoint and examine the hole in the tree.
Lilly Millet sits on a bench by a house at the northern edge of Emerald Ranch, to the east of Valentine. Confront her to trigger a fist fight with Cooper. Focus on defensive tactics and counterattacks to knock him out, then loot him to retrieve the money.
If a witness saw your crimes, be swift to stop them before they report you to the law.
Mission Objectives
Gold Medal Objectives (100%)
This mission does not feature Gold Medal objectives and is not replayable.
Money Lending and Other Sins - I & II: Mission Info
Mission Number

17

Story Chapter

Chapter 2

Mission Type

Missable Mission

Mission Giver

Leopold Strauss

Protagonist (Playable)

Arthur Morgan

Location

New Hanover
Rewards

$119.00

Featuring

Chick MatthewsCooperLilly MilletWrobel

Notes

Optional Honor Mission, required for the "Lending a Hand" Trophy/Achievement.
Money Lending and Other Sins - I & II Gold Medal Video Walkthrough