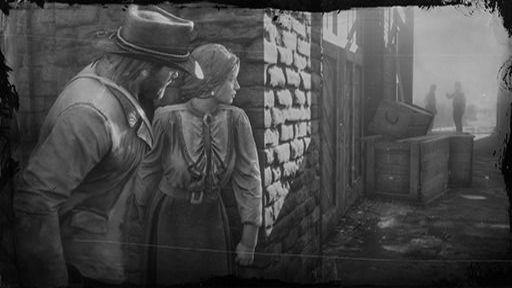 Mary asks Arthur for help with her father, who has become consumed by a gambling addiction. Arthur must retrieve a valuable family heirloom Mary's father has sold off.
Mission Information
Mission Number

49

Story Chapter

Chapter 4

Mission Type

Optional (Missable)

Mission Giver

Mary Linton

Protagonist (Playable)

Arthur Morgan

Location

Saint Denis (Bayou Nwa, Lemoyne)
Notes

Optional Honor Mission, required for the "Lending a Hand" Trophy/Achievement. Only available if "We Loved Once and True" was completed in Chapter 2.

Rewards

Honor

Featuring

Mr. Gillis
Mission Objectives
The following are the Mission Objectives required to obtain the Gold Medal:.
Catch the wagon and take it to the secluded spot within 1 minute 45 seconds
Take Mary to the theater
Note: You must complete all Gold Medal requirements in one single playthrough of the mission..
Gold Medal Video Walkthrough