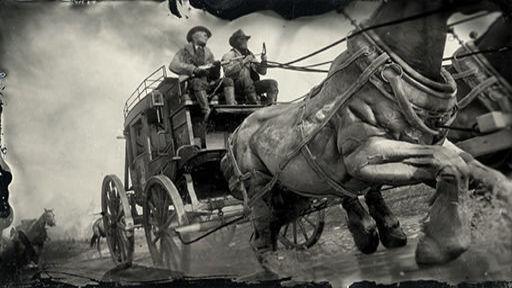 The Spines of America is a main story mission in Red Dead Redemption 2 given by Hosea Matthews, as part of Chapter 2 .
It's the 19° mission in chronological order of the RDR2 story mode, played with protagonist Arthur Morgan.
The Spines of America - Mission Details:
To prove their business credentials to the Emerald Ranch fence, Seamus, Arthur and Hosea attempt to rob a stagecoach from Old Bob Crawford at Carmody Dell.
Mission Objectives
Gold Medal Objectives (100%)
The following are the Mission Objectives required to obtain the Gold Medal in the mission "The Spines of America":
Loot everything from Carmody Dell
Don't get spotted
Deliver the wagon to Emerald Ranch within 1 minute 10 seconds
Note: You must complete all Gold Medal requirements in one single playthrough of the mission.
The Spines of America: Mission Info
Mission Number

19

Story Chapter

Chapter 2

Mission Type

Mandatory Mission

Mission Giver

Hosea Matthews

Protagonist (Playable)

Arthur Morgan

Location

From Emerald Ranch to Carmody Dell (The Heartlands, New Hanover)
Rewards

Gang Share: $150.00; Arthur's Cut: $82.50

Featuring

SeamusStagecoach
The Spines of America Gold Medal Video Walkthrough