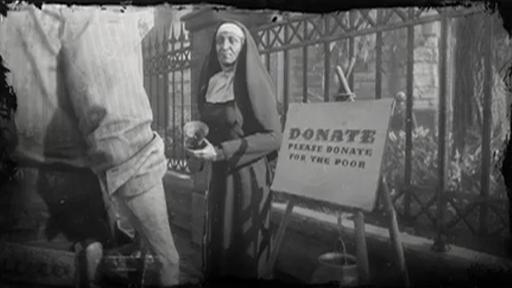 Of Men And Angels is an optional story mission in Red Dead Redemption 2 given by Sister Calderón, as part of Chapter 6 .
It's the 74° mission in chronological order of the RDR2 story mode, played with protagonist Arthur Morgan.
While optional for story progression, this is an Optional Honor Mission required for the "Lending a Hand" Trophy/Achievement. It's a time-sensitive and missable mission, so it can only be played at this specific point in the story.
Of Men And Angels - Mission Details:
Arthur meets Sister Calderon outside her church in Saint Denis. She asks him to donate food for the poor. You can complete this immediately by offering any four food items, or 10 dollars, or an equivalent combination of money and food.
Mission Objectives
Gold Medal Objectives (100%)
This mission does not feature Gold Medal objectives and is not replayable.
Of Men And Angels: Mission Info
Mission Number

74

Story Chapter

Chapter 6

Mission Type

Missable Mission

Mission Giver

Sister Calderón

Protagonist (Playable)

Arthur Morgan

Location

Saint Denis (Bayou Nwa, Lemoyne)
Rewards

Honor

Notes

Optional Honor Mission, required for the "Lending a Hand" Trophy/Achievement. Only available if "Brothers and Sisters, One and All" was completed in Chapter 4
Of Men And Angels Gold Medal Video Walkthrough