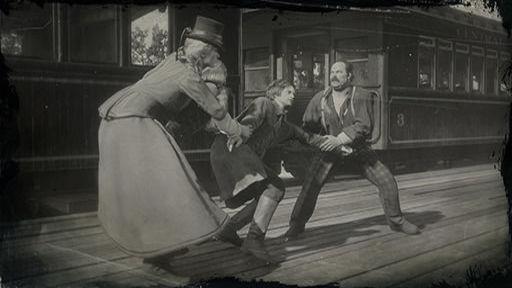 The Course of True Love - IV & V is an optional story mission in Red Dead Redemption 2 given by Penelope Braithwaite, as part of Chapter 6 .
It's the 75° mission in chronological order of the RDR2 story mode, played with protagonist Arthur Morgan.
While optional for story progression, this is an Optional Honor Mission required for the "Lending a Hand" Trophy/Achievement. It's a time-sensitive and missable mission, so it can only be played at this specific point in the story.
The Course of True Love - IV & V - Mission Details:
Arthur tries to help Penelope Braithwaite and Beau Gray escape their families.
Mission Objectives
Gold Medal Objectives (100%)
The following are the Mission Objectives required to obtain the Gold Medal in the mission "The Course of True Love - IV & V":
Headshot 5 of Braithwaites as they pursue the train
Complete within 7 minutes 30 seconds
Note: You must complete all Gold Medal requirements in one single playthrough of the mission.
The Course of True Love - IV & V: Mission Info
Mission Number

75

Story Chapter

Chapter 6

Mission Type

Missable Mission

Mission Giver

Penelope Braithwaite

Protagonist (Playable)

Arthur Morgan

Location

From Braithwaite Manor (Scarlett Meadows, Lemoyne) to Riggs Station (Big Valley, West Elizabeth)
Rewards

Honor; Penelope's Bracelet

Notes

Optional Honor Mission, required for the "Lending a Hand" Trophy/Achievement
The Course of True Love - IV & V Gold Medal Video Walkthrough