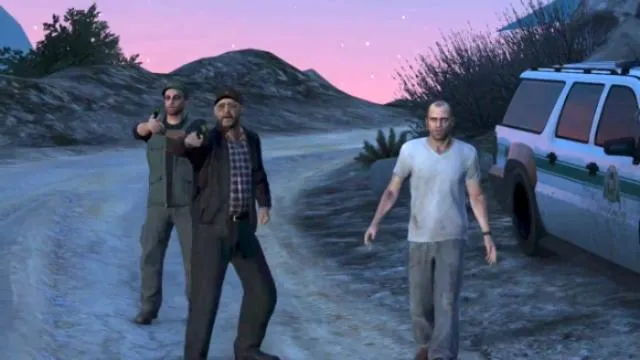 An American Welcome is a Strangers & Freaks side mission in Grand Theft Auto V given by Civil Border Patrol , involving protagonist Trevor Philips .
It's the 2° mission for Civil Border Patrol , after the The Civil Border Patrol mission.
This is an optional mission, not required for 100% completion of the game.
An American Welcome - Mission Details:
Trevor helps the Minute Men capture three more "illegal" immigrants, one of which shows his immigration documentation but is ignored.
Trevor meets Joe and Josef again, who have parked their Park Ranger near the Alamo Sea. The pair come across more illegals and wants Trevor wants to join them. Trevor agrees and they make him drive.
The first suspect is driving nearby on his Blazer. Trevor drives the truck close enough so Joe can shoot them with a stun gun. They capture the suspect and put him in the back of the truck. Joe tells Trevor to drive to the cement factory as more immigrants are working there. On the drive over, the apprehended suspect shows his documentation to show he's legal but Josef throws his papers out of the truck.
Once at the cement factory, the trio is noticed by a couple of suspects, who escape on motorbikes. Again, Trevor must drive close by so Joe can shoot them with a stun gun. Once all suspects have been apprehended, Joe and Josef leave Trevor and again thank him.
Gold Medal Objectives (100%)
The following are the Mission Objectives required to obtain the Gold Medal in the mission "An American Welcome":
Downed: Stop the 1st group of immigrants within 30 seconds

Take a shortcut right at the start.

Double Downed: Stop the 2nd group of immigrants within 55 seconds

Drive to the back of the cement factory.

Shock and Awe: Use the stun gun to stop all immigrants
Note: You can complete each Gold Medal requirement in multiple playthroughs of the mission. You don't need to obtain them all in one single playthrough.
An American Welcome: Mission Objectives
Apprehend the

suspect

.
Go to the

cement factory

.
Pick up the remaining

suspect

.
An American Welcome: Mission Info
Rewards

$500

Featuring

Park Ranger Blazer Stun Gun Joe Josef Manuel Civil Border Patrol
An American Welcome: Videos
PS3 / Xbox 360: Gold Medal Video Walkthrough
PC: Gold Medal Video Walkthrough