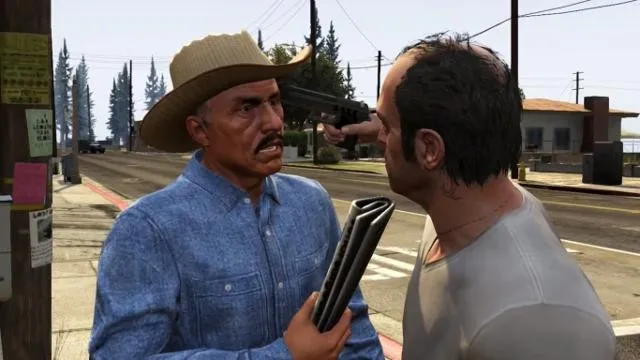 Minute Man Blues is a Strangers & Freaks side mission in Grand Theft Auto V given by Civil Border Patrol, involving protagonist Trevor Philips.
It's the 3° mission for Civil Border Patrol, after the An American Welcome mission.
This is an optional mission, not required for 100% completion of the game.
Minute Man Blues - Mission Details:
Trevor kills Joe and Josef.
Trevor journeys to Paleto Bay and comes across Manuel, a man he apprehended with Joe and Josef in An American Welcome. Manuel tells Trevor that The Civil Border Patrol can't deport him as he is a legal citizen and that his family have been here for over 200 years.
Manuel and Trevor exchange a few unpleasantries, causing Trevor to pull his gun out to Manuel's head. Manuel asks Trevor to kill Joe and Josef for him but won't pay him for doing so as Trevor "owes his family a great debt". Trevor agrees and finds Joe and Josef at a local farm.
Trevor kills Josef and chases Joe, who has commandeered a Fieldmaster. Once Trevor catches and kills Joe, he quips "Civil Border Patrol disbanded".
Gold Medal Objectives (100%)
The following are the Mission Objectives required to obtain the Gold Medal in the mission "Minute Man Blues":
What Goes Around...: Use the stun gun on Joe and Josef before killing them
No Migration: Kill Joe and Josef before they leave the farm

Shoot the vehicle's tires so that Joe gets out of his vehicle and runs.
Note: You can complete each Gold Medal requirement in multiple playthroughs of the mission. You don't need to obtain them all in one single playthrough.
Minute Man Blues: Mission Objectives
Minute Man Blues: Mission Info
Mission Type

Strangers and Freaks

Mission Giver

Civil Border Patrol

Protagonist (Playable)

Trevor Philips

Location

Paleto Boulevard, Paleto Bay

State / Area

Blaine County

Required for 100%

No
Minute Man Blues: Videos
PS3 / Xbox 360: Gold Medal Video Walkthrough
PC: Gold Medal Video Walkthrough