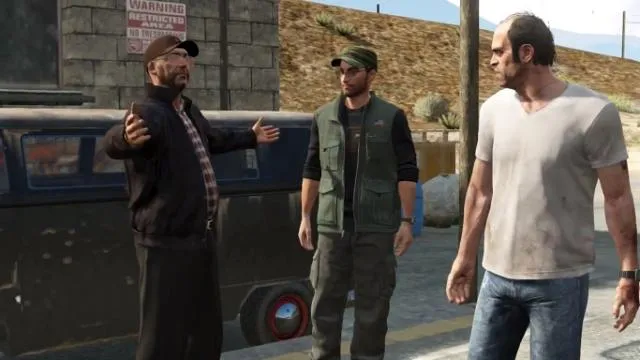 The Civil Border Patrol is a Strangers & Freaks side mission in Grand Theft Auto V given by Civil Border Patrol , involving protagonist Trevor Philips .
The mission becomes available after completing the Minor Turbulence story mission.
It's the first mission for Civil Border Patrol .
This is an optional mission, not required for 100% completion of the game.
The Civil Border Patrol - Mission Details:
Trevor neutralizes two "illegal immigrants" for the Minute Men.
Trevor meets Joe and Josef along Joshua Road in the Grand Senora Desert. Josef starts degrading Trevor in Russian, much to Trevor's confusion and anger. Joe eventually stops him and tell's Franklin it's just a training exercise they do.
The pair explain that they're The Civil Border Patrol, created to protect America from illegal immigrants. While they're all talking, Joe receives an alert, telling him there are some illegals over the hill. All three head to the Yellow Jack Inn.
Trevor heads inside the Yellow Jack but finds no immigrants. He heads back outside to find their suspects attempting to escape in a Tornado. Trevor subdues the two Mariachi band members with a stun gun. Joe and Josef take the Mariachi and thank Trevor for his help.
Gold Medal Objectives (100%)
The following are the Mission Objectives required to obtain the Gold Medal in the mission "The Civil Border Patrol":
Mariachi My Ride: Steal the band's Tornado after stunning them

Do this before the mission ends.

Stop the Music: Stop the band within 40 seconds

Shoot the Tornado's tires to stop it quicker.
Note: You can complete each Gold Medal requirement in multiple playthroughs of the mission. You don't need to obtain them all in one single playthrough.
The Civil Border Patrol: Mission Objectives
Go to the

suspects

.
Use the stun gun on the

mariachi

.
The Civil Border Patrol: Mission Info
The Civil Border Patrol: Videos
PS3 / Xbox 360: Gold Medal Video Walkthrough
PC: Gold Medal Video Walkthrough