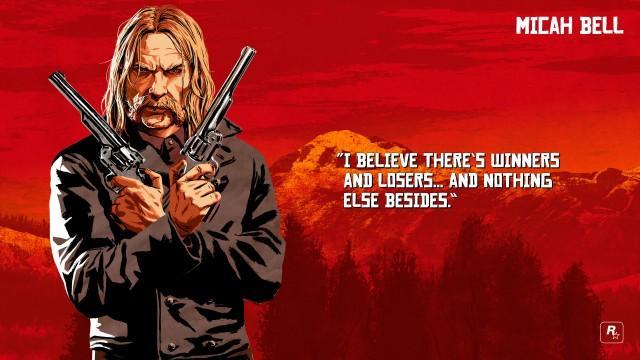 Micah Bell appears as a Major Character and Companion in Red Dead Redemption 2.
A career criminal and hitman, Micah has been with Dutch's gang for about five months. He claims he met Dutch when he saved his life in a bar fight over some stolen gold. He comes from a long line of bad men.
His father and grandfather before him were also called Micah Bell and, at one point, his father was wanted for murder in five counties. He has a brother living in California, whom he despises.
Wild, unpredictable and vindictive individual, he lives for the action, and is great in a gunfight.
Micah Bell: Character Info
Gender

Male

Born In Year

1860 (39 years old in 1899)

Nationality

United States

Location

1907: Mount Hagen (Grizzlies West, Ambarino)

Performer / Actor

Peter Blomquist

Affiliation

CleetJoeVan der Linde Gang

Weapons

Micah's Revolver

Horse

Missouri Fox Trotter
Micah Bell: Appearances
Game Edition

RDR 2 Story Mode
Micah Bell Missions in Red Dead Redemption 2:

Appearances in Story Missions:
"I believe there's winners and losers... and nothing else besides."
Screenshots
Artworks