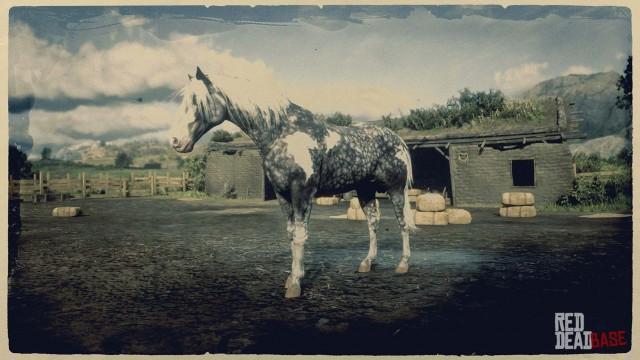 The Missouri Fox Trotter is one of the Horse Breeds featured in Red Dead Redemption 2 and Red Dead Online.
Missouri Fox Trotter Description:
The Missouri Fox Trotter is renowned for the calm stride making them a perfect choice for riding.
The Missouri Fox Trotter is a well-rounded multi-class breed. They can be identified by their muscular frame and eye-catching coats. Both the Amber Champagne and Silver Dapple Pinto can be purchased from a stable.
They are renowned for their gentle trotting which makes them a comfortable ride. Their strong build and great Stamina also make them excellent work horses. This breed is healthy and fast.
Missouri Fox Trotter Coat Styles:
Missouri Fox Trotter Statistics
Speed

70.00

Stamina

60.00

Health

50.00

Acceleration

60.00

Handling

40.00

Overall

55.00
Missouri Fox Trotter Info
Horse Class

Race Horse

Work Horse

Multi-Class

Handling Type

Standard

Animal Species

Horse

Animal Class

Mammal

Animal Family

Equidae

Size

Large

Peculiarity

Domestic Animal

Acquisition

Scarlett Meadows Stable

Blackwater Stable

Hunting

Cannot be hunted

Required for Achievement

No
Notes

This is a Domestic Animal, killing it or harming it decreases Honor and attracts a Wanted Level.

Scientific Name

Equus Ferus Caballus
Missouri Fox Trotter: Appearances
Game Edition

Red Dead OnlineRDR 2 Story Mode
Screenshots
Artworks