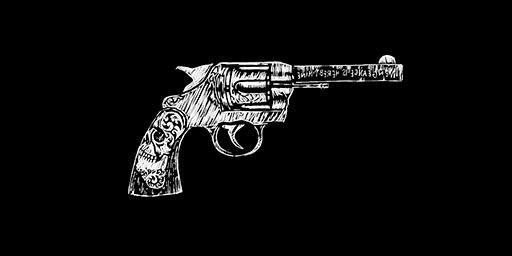 The Micah's Revolver is a Revolvers weapon featured in the Story Mode of Red Dead Redemption 2.
The design of the Micah's Revolver is based on a real life Colt New Model 1892 Army & Navy Revolver. The in-game version of the weapon is manufactured by D.D. Packenbush.
This weapon cannot be customized.
How to get the Micah's Revolver in RDR2 Story Mode:
The Micah's Revolver can only be obtained in RDR2 Story Mode as a Bonus Reward.
It becomes available after completing American Venom in Story Mode.
How to Obtain Micah's Revolver in RDR2:
STORY SPOILER: Return to the location of the final shootout at the top Mount Hagen after "American Venom" (Epilogue 2) and retrieve the gun from the frozen corpse
Micah's Revolver Description:
This old Double-Action Revolver features a blackened steel frame and a custom red-and-black skull grip. At some point, the words "Vengeance is hereby mine" were etched into the barrel. This previously belonged to Micah Bell, but he won't be needing it anymore. This gun has an ammo capacity of six rounds, and can use Regular, High Velocity, Split Point, Express and Explosive revolver ammo.
Micah's Revolver Statistics
Damage

42.00

Fire Rate

82.00

Accuracy

55.00

Range

50.00

Reload

70.00

Overall

59.8
Micah's Revolver: Information
Manufacturer

D.D. Packenbush

Weapon Type

Revolvers

Weapon Wheel Slot

Sidearms

Location

Found at the top Mount Hagen (Grizzlies West, Ambarino)

Available from

Bonus Reward

Available After Mission (Story Mode)

Modifications

Cannot be modified

Based on (Real Life)

Colt New Model 1892 Army & Navy Revolver
Notable Owners

Micah Bell
Micah's Revolver: Appearances
Release Date

October 26, 2018

Game Edition

RDR 2 Story Mode
In Story Missions

Similar Weapons
Screenshots
Artworks
Coming soon.