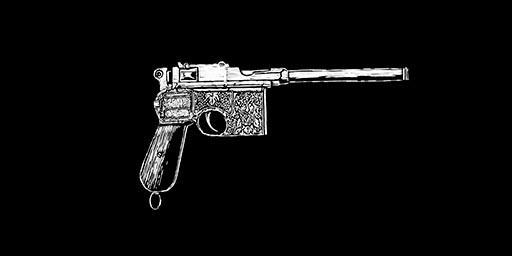 The Midnight's Pistol is a Pistols weapon featured in the Story Mode of Red Dead Redemption 2.
The design of the Midnight's Pistol is based on a real life Mauser C96 Pistol. The in-game version of the weapon is manufactured by Mühlberg.
This weapon cannot be customized.
How to get the Midnight's Pistol in RDR2 Story Mode:
The Midnight's Pistol can only be obtained in RDR2 Story Mode as a Bonus Reward.
It becomes available after completing The Noblest of Men, and a Woman (Gunslingers) in Story Mode.
Midnight's Pistol Description:
A rare Mauser Pistol, this weapon features gold-plated engravings and a black wooden grip.
Previously owned by gunslinger Billy Midnight, defeated in a duel on a train departing Rhodes, this gun has an ammo capacity of ten rounds, and can use Regular, High Velocity, Split Point, Express and Explosive pistol ammo.
Midnight's Pistol Statistics
Damage

36.00

Fire Rate

80.00

Accuracy

67.00

Range

50.00

Reload

75.00

Overall

61.6
Midnight's Pistol: Information
Manufacturer

Mühlberg

Weapon Type

Pistols

Weapon Wheel Slot

Sidearms

How To Unlock

Found next to the body of Billy Midnight after your duel in the corresponding Gunslinger Mission. If you do not pick it up, you won't be able to acquire it later

Location

Found in Rhodes (Scarlett Meadows, Lemoyne)

Available from

Bonus Reward

Available After Mission (Story Mode)

Modifications

Cannot be modified

Based on (Real Life)

Mauser C96 Pistol
Notable Owners

Billy Midnight
Midnight's Pistol: Appearances
Release Date

October 26, 2018

Game Edition

RDR 2 Story Mode
In Story Missions

Similar Weapons
Screenshots
Artworks
Coming soon.