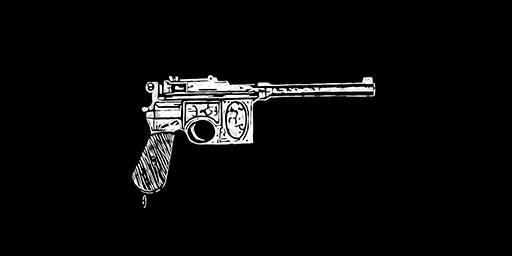 The Mauser Pistol is a weapon in the Pistols class featured in Red Dead Redemption 2 and Red Dead Online.
The design of the Mauser Pistol is based on a real life Mauser C96 Pistol. The in-game version of the weapon is manufactured by Mühlberg.
This weapon can be customized at any of the Gunsmiths.
How to get the Mauser Pistol in Red Dead Online:
The Mauser Pistol can be purchased in Red Dead Online at any Gunsmith or from the Handheld Catalogue, for a price of $600.00 or 24 Gold Bars .
It's unlocked for purchase after reaching Rank 34 in Red Dead Online.
How to get the Mauser Pistol in RDR2 Story Mode:
The Mauser Pistol can be purchased in RDR2 Story Mode at the Gunsmith for a price of $250.00.
It becomes available after completing the mission That's Murfree Country in Story Mode.
Mauser Pistol Description:
A new import from Germany, the Mühlberg Mauser is a modern semi-automatic pistol with low damage. The rapid fire rate of this weapon, along with a large ammo capacity, make this a good choice for close range combat, or when surrounded by multiple enemies. This gun has an ammo capacity of ten rounds, and can use Regular, High Velocity, Split Point, Express and Explosive pistol ammo.
Mauser Pistol: RDR2 Statistics
Damage

36.00

Fire Rate

80.00

Accuracy

62.00

Range

50.00

Reload

75.00

Overall

60.60
Unlock Rank

34

Ammo Capacity

10
Mauser Pistol: RDR2 Info
Notes

Exclusive to Valentine Gunsmith and Saint Denis Gunsmith
Wheeler, Rawson & Co. Catalogue Description (in-game):

THE FINEST SELF LOADING "AUTOMATIC" PISTOL. It has the dandiest of designs, having originated from a couple of passionate brothers in Europe who have spent their life's work fashioning ingenious ways to propel lead at high rates of speed.
Mauser Pistol: RDR2 Appearances
Release Date

October 26, 2018

Game Edition

Red Dead OnlineRDR 2 Story Mode
Appearances in Story Missions:

Similar Weapons
Screenshots
Artworks
Coming soon.