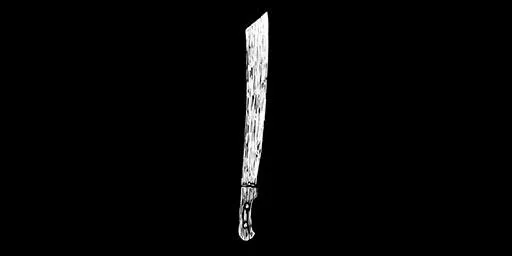 The Machete is a weapon in the Melee Weapons class featured in Red Dead Redemption 2 and Red Dead Online.
This weapon cannot be customized.
This weapon also appears in Grand Theft Auto V and GTA Vice City.
How to get the Machete in Red Dead Online:
The Machete can be purchased in Red Dead Online at any Fence for a price of $40.00 or 2 Gold Bars .
It's unlocked for purchase after reaching Rank 32 in Red Dead Online.
How to get the Machete in RDR2 Story Mode:
The Machete can be purchased in RDR2 Story Mode at the Fence for a price of $10.00.
It becomes available after completing the mission Dear Uncle Tacitus in Story Mode.
Machete Description:
With a sharp broad blade, the Machete is designed for harvesting sugar cane, or clearing through forest undergrowth. However, this doesn't stop it from being an effective melee weapon, with a longer range than most. One strong hack with this weapon will take any target down quickly and quietly.
Machete: RDR2 Statistics
Damage

55.00

Range

10.00

Overall

32.50
Machete: RDR2 Info
Weapon Class

Melee Weapons

Weapon Wheel Slot

Fist

Acquisition

Fence

Available After Mission (Story Mode)

Story Mode Price

$10.00

Online Price

$40.00 or

2 Gold Bars

Modifications

Cannot be modified
Machete: RDR2 Appearances
Release Date

October 26, 2018

Game Edition

Red Dead OnlineRDR 2 Story Mode
Appearances in Story Missions:
Screenshots
Artworks
Coming soon.