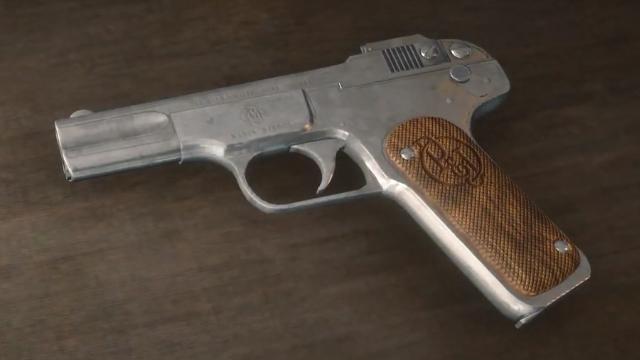 The M1899 Pistol is a Pistols weapon featured in the Story Mode of Red Dead Redemption 2, added to the game as part of the 1.14 PC Release update on November 5, 2019.
The design of the M1899 Pistol is based on a real life FN Browning M1900. The in-game version of the weapon is manufactured by Peeters & Janssens.
This weapon can be customized at any of the Gunsmiths.
How to get the M1899 Pistol in RDR2 Story Mode:
The M1899 Pistol can be purchased in RDR2 Story Mode at the Gunsmith for a price of $350.00.
It becomes available after completing The Battle of Shady Belle in Story Mode.
M1899 Pistol Description:
The M1899 Pistol is an all-new Semi-automatic handgun with clip loaded ammunition. It's an exclusive weapon only available in Story Mode of Red Dead Redemption 2. To unlock the M1899 Pistol, you must first complete of the mission "The Battle of Shady Belle".
Only stocked by the best gunsmith in Saint Denis, the M1899 by Peeters & Janssens is a thoroughly modern sidearm. A semi-automatic handgun, the M1899 deals good damage at short range and its clip loaded ammunition allows for a swift reload. This gun has an ammo capacity of eight rounds, and can use Regular, High Velocity Split Point, Express and Explosive pistol ammo.
M1899 Pistol Statistics
Damage

37.50

Fire Rate

77.00

Accuracy

70.00

Range

50.00

Reload

78.00

Overall

62.5
M1899 Pistol: Information
Notes

Previously exclusive to the PC version of Red Dead Redemption 2 Story Mode, it was made available for other platforms on December 13, 2019. The Purchase Price in discounted to $262.50 in case of High Honor
M1899 Pistol: Appearances
Release Date

November 5, 2019

Title Update

1.14 PC Release

Game Edition

RDR 2 Story Mode
Screenshots
Artworks
Coming soon.
Videos