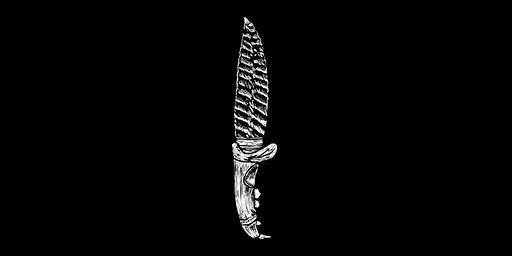 The Jawbone Knife is a weapon in the Melee Weapons class featured in Red Dead Redemption 2 and Red Dead Online.
This weapon cannot be customized.
How to get the Jawbone Knife in Red Dead Online:
The Jawbone Knife can be purchased in Red Dead Online at any Fence for a price of $105.00 or 5 Gold Bars .
How to get the Jawbone Knife in RDR2 Story Mode:
The Jawbone Knife can only be obtained in RDR2 Story Mode as a Bonus Reward.
It becomes available after completing the mission A Test of Faith (Dinosaur Bones Collectible) in Story Mode.
Jawbone Knife Description:
A rare crafted knife, made with a large piece of flint as a blade, and the jawbone of a coyote as a handle. A reward for collecting dinosaur bones for Deborah MacGuiness, an amateur paleontologist located in Firwood Rise, Cumberland Forest.
Jawbone Knife: RDR2 Statistics
Damage

50.00

Range

10.00

Overall

30.00
Jawbone Knife: RDR2 Info
Weapon Class

Melee Weapons

Weapon Wheel Slot

Melee

Acquisition

Bonus RewardFence

Available After Mission (Story Mode)

Online Price

$105.00 or

5 Gold Bars

Modifications

Cannot be modified
Notes

The weapon was made available in Red Dead Online on February 26, 2019 (PS4 Early Access).
Jawbone Knife: RDR2 Appearances
Release Date

October 26, 2018

Game Edition

Red Dead OnlineRDR 2 Story Mode
Appearances in Story Missions:
Screenshots
Artworks
Coming soon.