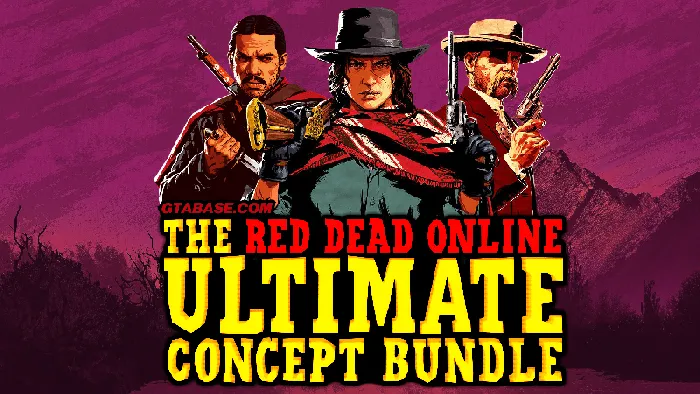 Page 9 of 13

Concept Update 8: "Undead Redemption"
Seasonal Changes:
Main Freemode lobbies are set two months after RDR2, Chapter 6.
The 'King of the Irish' bounty will no longer have the player hunt down 'Colm O'Driscoll', but rather "Daryll O'Donnell" – A distant cousin of Colm, who was a high-ranking lieutenant in his gang.
'The Preacher' bounty will now be advertised as the real Dutch Van Der Linde but will still turn out to be an impostor.
Appleseed Timber Co have now cut down the majority of the forest near Strawberry, leaving the lands looking barren.
Angelo Bronte's house has been purchased, and thus will no longer be boarded up.
Various build sites around the Frontier have been completed.
Charles Smith will now offer Stranger Missions at Wapiti.
'Joe' will no longer be available for Stranger Missions, as he has left the Frontier with Dutch and Micah.
Micah's Stranger Missions are now given by Bill Williamson, who is located at Fort Mercer.
Sadie Adler is now a Wandering Stranger, offering high-paying Stranger Missions.
Live events:

Season-wide cutscene: Jessica LeClerk approaches the player and offers her condolences to what they've lost in the way of the Van Der Linde gang. She reflects on her husband's murder. The player is taken into a flashback showing Amos Lancing smile as he watches Teddy Brown shoot Mr LeClerk, the botched trial, and the player being taken into Sisika. Back in the modern times, Jessica says she has an old keepsake for the player and offers them their old prisoner outfit.

After this event, players will own the 'Prison Stripes' outfit.

Season-wide event: In order to promote 'Plague Freeroam' – players can randomly encounter undead Arthur Morgan. He will be wandering around one of the old Van Der Linde campsites. If shot, a cutscene will trigger where he lays dying on the ground. He will look at the player and ask them to stop the pain. The player will hold his hand, point their gun to his head and pull the trigger as the camera cuts to black.

After this event, players will own 'Mary Linton's Broach' horse saddle trinket, which will triple horse bonding speed.

Daily event: For one day only, players will be able to purchase a ticket to see 'D'Angelo' and Woody Jackson live in the Saint Denis theatre, performing the soundtrack of Red Dead Redemption 2.
Weekly cutscene: Halfway through the season, players can encounter Uncle in Blackwater. He asks the player if they are excited for the turn of the century, and says he'll see them around.

After this event, Uncle will become a random camp visitor and offer the players a chance to purchase 'Antique Alcohol Bottles' for half their sell price.
Undead Redemption:
A new variation of Red Dead Online Freeroam is available – 'Plague Freeroam'. The dead have risen, and the player must fight their way across the Frontier, liberating towns and working with allies to thwart the flesh-eating hordes.
Due to the nature of this update, this is unlocked via a one-off purchase for £6.99/$10
The base world will permanently reflect that of Season 8, taking place shortly after RDR2's main story.
These lobbies have a reduced maximum player count of twenty players.
Player inventory, gold and money will carry over between Plague Freeroam and normal Freeroam
PVP combat has been disabled in this new lobby type as survivors must band together to pull through in the undead apocalypse.
The undead are smarter, clumping together in hordes and clambering over eachother in order to get the fatal bite.
Madam Nazar can be seen wandering round the world, ignored by the undead.
There are public safehouses and encampments across the Frontier, where missions can be picked up from familiar characters like Jessica LeClerk, Cripps, Maggie Fike and Alden.

These missions include:

Rescue survivors.
Liberate smaller settlements.
Collect supplies.
Clear out areas.

The Plague Freeroam lobby will have each small town liberated, with them periodically coming under siege from the Undead.

Each town will have it's own safe zone which will hold the special mission givers.

These include locations such as:

Cornwall's Saint Denis trainyard
Fort Mercer
Annesburg Mining Facility
Braithewaite Farm
Fort Wallace
Hanging Dog Ranch

These locations will periodically come under siege from large groups of Undead. They will bash at the walls and gates. when this happens, all players in the lobby will be notified in order to help fend off the overwhelmingly large amount of Undead.

There are ten different types of undead:

The Fresh: Typical undead.
The Bolter: The fast running undead, returning from Undead Nightmare.
The Bruiser: The tough undead, returning from Undead Nightmare.
The Retcher: The acid-spitting undead, returning from Undead Nightmare.
The Deviant: The sentient undead, returning from Undead Nightmare as a special undead-item trader.

The Deviant sells 'Holy Water', which can be used as a horse reviver or a health cure.

The Amalgamation: Multiple severed chunks from different undead humans and animals, merged into one huge and disgusting beast.

These are rare and will normally serve as a boss fight.

The Miner: A Fresh undead, wearing a mining helmet making it harder to kill. These also commonly carry dynamite on their belt which can be shot for devastating results.
The Howler: An undead which should be killed quickly. It will scream in order to attract the hordes if it sees the player.
The Satanist: This old undead cultist will be permanently on fire and will burn the player upon contact. It moves very slowly.
The Nun: The Nuns will ignore the player, unless provoked. Then they will charge, screaming and inflicting higher damage than average.

Saint Denis is simply too big and infested to liberate and should be avoided.

Players can enter Saint Denis for high-level loot and ammo.

Undead Redemption has its own five-mission story.

Prologue – 'Outbreak' sees the player and Horley in Saint Denis when the undead attacks. The first victim is a newspaper boy, who is promoting a story about cannibals going crazy in Annesburg. More hordes begin arriving and the player must flee after Horley is bitten. This serves as the introduction to the new lobby. At the end of this mission, the player is taken to the Shady Belle survivor camp, where they are given a flaming torch melee weapon and five throwable undead baits.
Mission 1 – 'Liberation' has the players free each of the towns in New Hanover and Lemoyne by eliminating undead, burning graves and ringing church bells.
Mission 2 – 'Dead West' continues the liberation spree with players freeing West Elizabeth and New Austin.
Mission 3 – 'The Mask' introduces the players to Moses, who has stolen a mask from an ancient crypt. Someone has stolen the mask from Moses, so the players must hunt it down and find it.
Mission 4 – 'Redemption' has the players take the mask to the crypt through the caves under the Elysian Pool. They must fight through waves of stronger undead creatures to return the mask. After opening the secret door to the crypt, the players are bitten by Undead who come pouring out. The players must fight through to the Mask's sacred podium in order to return it before they are converted into one of the Undead creatures. They are hit with visual distortions, echoes of conversations past and hallucinations of people they've killed. After completing this, the world is seen returning to normal – Horley becomes human again. Nigel West Dickens is seen advertising his cure.

There is also three sidequests available as a part of Plague Freeroam:

The Great Bait Train: Players must lead a large horde of undead using a train to Bacchus Bridge, luring them off a cliff and eliminating the threat. Players will defend the train until it arrives at the bridge, throwing bait and causing enough noise to bring more of the infected towards their demise.
Strangely Familiar: The player is approached by the Strange Man. He speaks of knowing them and what they're thinking. He gives the player a new "Divine Revolver" working much like the Flare Gun in GTA Online, but also attracting undead. Players will have to use this to lure undead away from Manzanita Post.

Cold, Dead Hands: Sadie approaches the player and asks them to help her check on the old Adler ranch. Arriving there, they find Jake undead, standing half-frozen. Sadie says her goodbyes, before they are attacked by a large group of Frost Demons - Slower, and tougher frozen undead unique to this mission.


Plague Freeroam is still available after completing the story, with 'Waves Mode' unlocked.

In 'Waves Mode', players are based in a building (Such as the Saint Denis theatre or bank) and have to fight off progressively stronger waves of the undead.
Waves mode is for 1 – 14 players, with Matchmaking enabled.

The Four Horses of the Apocalypse are back, but as legendary hunting animals.

Players can kill these horses and take the charms they drop to add to their saddle for powerful effects which are triggered by using Deadeye whilst horseback. These can be taken into normal Freeroam.
The effects are as follows:

War – When deadeye core is full, open deadeye to send out a powerful shockwave which will knock enemies off their feet. Flaming embers will fall from horses with this trinket.
Plague – Shooting enemies with deadeye will inflict poison. Flies will buzz around horses with this trinket.
Famine – The horse's health and stamina cores will drain 8x slower. This trinket will make horses seem bony and thin.
Death – When incapacitated, the horse will not have its timer run out. Players will be given fortified cores and a health boost until they revive their horse. A black cloud will surround the hooves of horses with this trinket.

There are a variety of random encounters, such as couples stuck on surrounded wagons, families struggling to put down infected relatives, and burning trains passing by.
Miscellaneous Changes and Additions:
Players can now purchase "Saddle Trinkets" which can offer slight stat boosts to their horse.
Changes have been made to the weapon customisation section in the Gunsmith:

Stock and wrap have been moved to the 'Styles' tab and will lead directly into their colourways.
This means players can view all weapon stocks with grain options and wraps with colour options without committing to a purchase.

A scoreboard has been added to each random encounter event.

This will detail:

The player with best accuracy
The player with the most kills
The player with the most headshots
The player who has taken the most damage
The player who has taken the least damage
Overall completion time

This can be disabled.

Players' maps will now permanently show world secrets, flowers, and animal spawns once the player has encountered them. These will show up in the form of pencil drawings on the map, which can be seen in singleplayer.
In order to accommodate for Native American players, a traditional-style Native American camp theme has been added.

This features tepees, thatch huts, and the sorts.

This update once again comes with four Quick-Draw clubs:

The first club is themed around Halloween, with demon hunter and dark nun/priest clothes, and ends with a "Tattered Arthur" outfit.
The second club is themed around classic RDR1 characters, such as Seth, Irish, and Reyes.
The third club ties back to the first Outlaw Pass in this concept, with more real-life gunslinger outfits.
The fourth club is themed around Red Dead Online content creators, with Rockstar collaborating with them to create their own styles.
Unlocking all four Quick-Draw clubs will allow players to purchase the Christmas Pass for free, with a Santa-inspired outfit.

Added a variety of new voice lines to 'Blind Man Cassidy', including:

"The turn of the century nears. It brings… Uncertainty."
"I sense two realities, two minds, two of you. Coexisting as one."
"The final pursuits, I see them coming soon."
"Celebrations are afoot."
"I sense great pains in you. The loss of the ones you loved. You mourn lives, you mourn family."
Justification:
Undead Nightmare was arguably Rockstar's most successful DLC update ever, and with the main story of RDR2 having finished within Online, now is the perfect time to add a spiritual successor of it to RDO.
Some may not be happy about this being an extension for Online, but having it serve as a fitted paid DLC for Online, it will be justifiable as a DLC that doesn't offer any new purchases within Red Dead Online whilst simultaneously serving up what could be seen as a new game.
Having it still be in Online means we can experience a similar story with friends, whilst not compromising the Rockstar vision to keep RDR2 as what it is, it will also give players an almost "Walking Dead" group of survivors feel to the Online, separating it from other Zombie titles on the market. Adding new types of Undead will also keep the game as a step up from the original RDR expansion.
I wanted to have the Plague Freeroam offer rewards for the regular Online mode just so it felt like the work and progress mattered in either way.