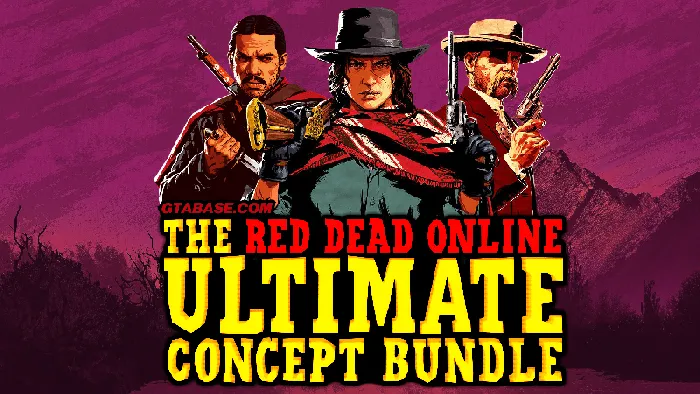 Page 4 of 13

Concept Update 3: "The Saint Denis Fight Club"

Seasonal Changes:
Takes place during RDR2, Chapter 2.
The Van Der Linde gang has arrived at Horseshoe Overlook and have set up comfortably.
Upon the player arriving at Horseshoe Overlook, they are called over by Susan Grimshaw. She expresses worry about the gang being recognised by townsfolk, so the player is once again to find and take down any Van Der Linde gang bounty posters they see and deliver them to her for a reward.
Pearson no longer needs food as desperately but will still pay the player half price for anything they bring to him, as well as offer any of the single player craftable clothing.
Hosea will now tip the player off about any nearby legendary animals.
Micah has been imprisoned, so the missions given to the player by him (And previously Sean) will be temporarily supplied by Bill Williamson.

Bill will introduce himself to the player, saying he'll be covering Sean's missions as "The other two were stupid enough to get themselves arrested."

Live events:

Weekly cutscene: Two weeks in, players will be able to experience another angle of 'Americans at Rest' and watch Arthur in a bar fight. At the same time, we see the player get jumped by brawlers and have to fight them off in a fully choreographed cutscene. At the end of the fight, the player uses a shard of glass from the broken window to stab a strong attacker.
Daily event: One week later, players will be able to join in with the events following 'The First Shall Be Last' where Sean has been saved, and the gang parties at camp. For one real-life day, players can go to the Van Der Linde camp to join the party, listen to the music, and have a relaxing time with one another.

After this event, players will be able to accept stranger missions from Sean again, rather than Micah or Bill.
Sean's "Stranger" introductory cutscene will no longer take place in Tall Trees, but rather in the burned down shack near Rhodes. He will not mention being split up from the gang anymore either, but having just "heroically" escaped a gang of Bounty Hunters by himself.

Weekly cutscene: After another two weeks, we see 'A Quiet Time' and watch the player drunkenly party with Arthur and Lenny.
Weekly cutscene: Two weeks later, players can see the events of 'Blessed are the Meek?' unfold as the player and Gus are sitting in the Strawberry hotel.

After this live event, Blackwater comes down from being on such high alert, but Strawberry will take its place and have the same restrictions and bounty bonuses.

Weekly cutscene: On the last week of the season, players will be able to walk into Valentine as the auctioneers are discussing recent events with Leviticus Cornwall and guide him to John and Strauss who are captured. The player goes to help but a gun is pointed at the back of their head, and they are also captured and taken to a wagon near the auction house. The Pinkertons try to question the player, but are distracted by gunshots in the distance, and run off. The player cuts the rope binding their hands on a sharp piece of wood and sneaks away unseen.
The Saint Denis Fight Club:
The Saint Denis Fight Club has been added to the game

This functions as a public area, much like the casino in GTA Online.
Ran by an eccentric Italian only known as "Saint Dennis"
There is a bar and bartender available for those wishing to spectate with a refreshing beverage or take a shot of Dutch Courage.
In this building, players can participate in hand-to-hand combat, or simply watch, and even place bets on other fights.

Betting is dependent on how many players place wagers, and how much money is on the table.
Bets can sit between RDO$1 - $50, with the winners sharing the pot with a risk/reward return.
The house will always take a 5% cut from the betting.

To participate in fights, players must first purchase a 'Brawling License' for 5 Gold. – This unlocks a small, ten-level "Brawler" role.

There are six fighting rings.

Three are focused on Player-on-Player combat, three are focused on Player-on-AI combat.
Victorious players can choose to stay in the ring for the next challenger if they wish and will regain a small amount of health.

This health increase will depend on their level in the Brawler role.

Player verses Player rings consist of:

The Duel: 1v1 matches, which award players with RDO$20, after paying a $2 entry fee.

The prize money increases by 10% every round for 10 rounds.

The Brawl: 2v2 matches, which are posse based. Winning has a celebratory joint celebration. The entry fee and prizes are the same for the 1v1, per player.
The Free-For-All: Six players aiming to be the last person standing. The winner gets a RDO$50 prize for winning, with a $5 bonus per player in the match, and a $7.50 bonus per player they landed the final blow on.

Players in Player-on-AI get to stay in the ring for 10 rounds, or until they are beaten. The rounds get tougher, with the "Tommy"-style brute enemies entering in the final round.

Player verses AI rings consist of:

Solo Champion: Players in the One-on-one get $5 per round they win, and a $50 bonus for completing the set. Free to enter.
Dual Champions: Two posse members spar against two NPC enemies, same rules, payouts and prices as Solo Champion.

If one posse member is eliminated, their partner can fight on.

The Gauntlet: Two posse members sparring against waves of AI enemies, with rounds working as the following:

Round 1 – 3: Six NPC attackers
Round 4 – 7: Eight NPC attackers
Round 8 – 9: Ten NPC attackers
Round 10: Six basic NPC attackers, and two brute fighters.

For each wave in The Gauntlet completed, players will earn RDO$20, and a bonus of $100 and 10 gold nuggets for completing the whole set. RDO$15 to enter.
Sets can only be successfully completed once every in-game day. If the player is defeated before the end, there is a 20-minute cooldown before they can re-enter. They will not be rewarded until their last completed level of that day.
The Brawler Role:
The "Brawler" role has been added to the game.

This consists of ten levels, with the following unlocks:

Rank 1: Brawler uniform, "black eye" makeup
Rank 2: Boxing fighting style
Rank 3: Arena Health Regeneration boost
Rank 4: Krav maga fighting style
Rank 5: Champion's belt buckle
Rank 6: Karate fighting style
Rank 7: Arena Health Regeneration boost
Rank 8: Faster dodge and counter attacks.
Rank 9: Mixed Martial Arts fighting style
Rank 10: Champion's Saddle
Miscellaneous Changes and Additions:
Four different melee combat styles have been added to the game to be unlocked.

These can be selected via the player menu.
Each fighting style has its own unique animations, with benefits and flaws when it comes to speed, dodging, and damage.

Two new camp games have been added: Knife Throwing and Horseshoe.

Horseshoe functions a lot like darts from Grand Theft Auto V, with players having to land the shoe on the peg
In Knife Throwing, players must throw their knives in the air, and hope they don't land on them, functionally very similar to golf in Grand Theft Auto V.

The Saint Denis Fight Club is now an export location for Lemoyne Moonshine Shacks.
Any player who beats a Rockstar Employee in the Saint Denis Fight Club will be awarded with a special Rockstar buckle.
A variety of new achievements have been added for completing triumphs in the Saint Denis Fight Club
The loot tables for random encounter wagons and passenger trains now include collectables.
Outlaw Pass will be themed around Valentine with cheap farmer clothes, and fighting gear with the likes of new hand-wraps and shorts.
Blind Man Cassidy has a few new voice lines, including:

"You fight with honour, with vigour, and for glory. What does that say about you?" (BRAWLER REQUIRED)
"You must go further in the life you pursue, if you are to truly become happy."
"An acquaintance of yours is sick, yet he does not know. I can hear him suffocating in the lies of his master."
"I see you, years from now. You are… Different. Scary. You stay away from that woman, for you might lose your humanity."
Justification:
Everyone has been asking for a Fight Club. Impromptu ones have been held for years. Why not make it official? Offering special rewards through the half-levelled role gives players incentive to progress and return to it. Giving options between PvE and PvP rings ensures there is content there for everyone. Fighting styles allows for a new level of customisation, and was proven to be possible with Saints Row 2.
Once again, this is a smaller update in terms of changes, which aims to balance out the much larger update following this one. Naturally, the likes of new fighting styles and the other content associated with the club makes it a larger undertaking.