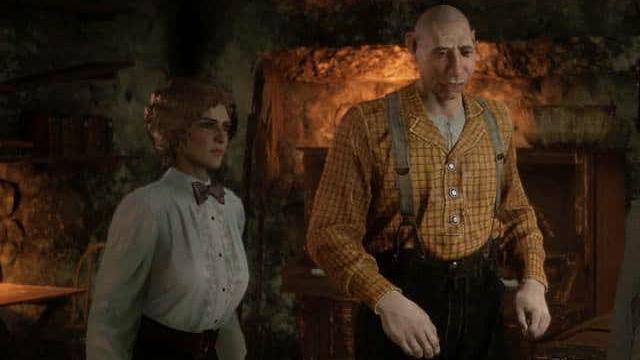 The Smell of the Grease Paint is a Strangers side mission in Red Dead Redemption 2 given by Miss Marjorie.
The mission becomes available after completing Chapter 2 in the RDR2 Story Mode.
The Smell of the Grease Paint Mission Walkthrough
The Smell of the Grease Paint - Part I
Two members of a traveling sideshow, Bertram and Marjorie, are found arguing about the disappearance of another member of their troop in the Van Horn saloon. After intervening, a fight breaks out with Bertram.
Miss Marjorie, the stranger who will give you this mission, is engaged in an argument with her friend Bertram inside the Van Horn saloon. When the opening cutscene ends, defeat Bertram in a fist fight. Block each of his attacks and follow up with extended counters to make short work of him.
The Smell of the Grease Paint - Part II
Magnifico, the missing member of a sideshow act, uses some tricks to evade capture as he flees through the woods.
Afterwards, head to the highlighted area to the southwest of Van Horn to find Magnifico camping in the woods.
As soon as he escapes. chase after him until you reach the river. If you lose sight of him due to the smoke, consult your radar. Cross the river and search the three colored smoke clouds, then resume the chase. When he disappears again, look for him in the nearby tree. Run after him one last lime, following the blips on your radar, until a cutscene is triggered.
The Smell of the Grease Paint - Part III
If you head to the Saint Denis theatre after this, you will have a chance to watch a live performance of Miss Marjorie and her troupe. After the show, speak to the ticket taker to receive a letter from Miss Marjorie and the cut of the proceeds you were promised.
The Smell of the Grease Paint: Mission Info
Mission Type

Stranger Side Mission

Mission Giver

Miss Marjorie

Location

Van Horn Trading Post (Roanoke Ridge, New Hanover)

Available After Mission (Story Mode)
Rewards

$40.00

Featuring

BertramMagnificoMiss Marjorie
The Smell of the Grease Paint Video Walkthrough