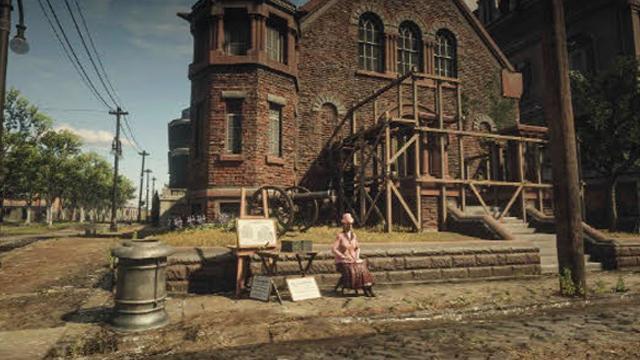 Mission Information
Mission Type

Stranger Side Mission

Description

An unnamed woman is collecting donations for an expansion of the Quincy Harris Memorial Hall in northwest Saint Denis.

Location

Saint Denis (north-west)

Available after Mission

Chapter 2
Notes

Only available until Chapter 6. Not available during or after the Epilogue.

Reward

Honor
Walkthrough
Head lo the northwest part of Saint Denis, close to the tailor, to find a lady raising money for the construction of a building for veterans and their families.
Donating the $20 she asks for leads to a small honor gain. If you choose to loot the lock box instead, you will receive a few dollars - but lose a large amount of honor and be chased by the law. Either way, the proposed structure will actually be built by the time you begin the game's epilogue.
If you choose to donate money, Arthur Morgan's name will be seen on the plaque outside the building in 1907.
Video