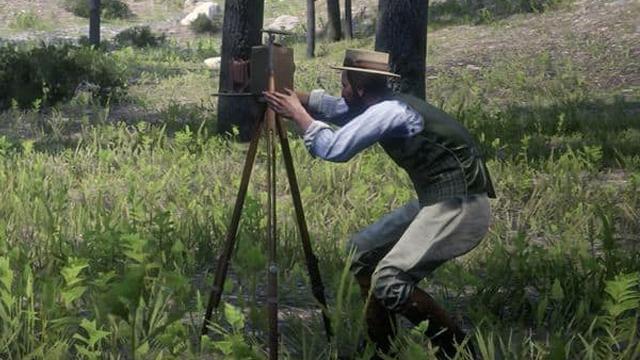 Arcadia for Amateurs is a Strangers side mission in Red Dead Redemption 2 given by Albert Mason.
The mission becomes available after completing Chapter 2 in the RDR2 Story Mode.
Arcadia for Amateurs Mission Walkthrough
Arcadia for Amateurs - Part I
Albert Mason, a wildlife photographer, has his bag stolen by a coyote while setting up his camera.
You can meet this stranger by the river just southeast of Strawberry. After your first conversation, head to the highlighted area. The coyote that stole Mason's bag will run to the west, between two shacks: hit it with any weapon, then retrieve the bag and deliver it back to the photographer.
Arcadia for Amateurs - Part II
Mason survives a scare while trying to take a picture of some wolves.
Two in-game days later, Mason can be found to the northwest of Wallace Station. When the wolves attack, take them out in any manner you see fit. Brief bursts of Dead Eye can be useful here.
Arcadia for Amateurs - Part III
Eager to get a shot of a Silver Dapple Pinto, Mason sets up his camera in the plains of the Heartland Overflow.
Your next encounter occurs a short distance to the north of Emerald Ranch, after at least 48 in-game hours have elapsed. After your conversation, mount up, ride to the wild horses to the northwest, and herd them back toward the waypoint.
Arcadia for Amateurs - Part IV
In order to get close-up photographs of alligators, Mason needs help rowing into the middle of Bluewater Marsh.
Albert Mason appears for the fourth time on the east side of the Lagras swamps, again at least 48 in-game hours later. Once in the boat, your goal is to row to the three highlighted areas in turn. At the westernmost highlighted area, Mason will ask you to jump off the boat and lure the alligator.
Arcadia for Amateurs - Part V
Albert Mason almost pays the ultimate price for his work, after tumbling off a cliff edge while trying to take photographs of flying eagles.
For the final, cutscene-only encounter, Mason is found at a beautiful viewpoint just north of Horseshoe Overlook, a minimum of two in-game days after the previous stage.
Arcadia for Amateurs: Mission Info
Mission Type

Stranger Side Mission

Mission Giver

Albert Mason

Location

Various. First encounter at south-east of Strawberry (Big Valley, West Elizabeth)

Available After Mission (Story Mode)
Arcadia for Amateurs Video Walkthrough