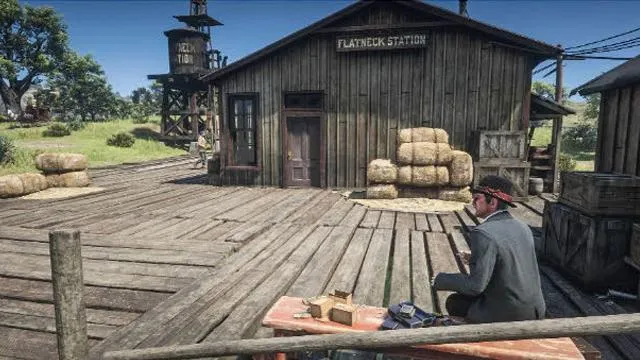 Smoking and Other Hobbies (Cigarette Cards Collectible) is a Strangers side mission in Red Dead Redemption 2 given by Phineas T. Ramsbottom .
The mission becomes available after completing Who is Not without Sin in the RDR2 Story Mode.
Smoking and Other Hobbies (Cigarette Cards Collectible) Mission Walkthrough
This assignment becomes available after you complete "Who is Not Without Sin", one of the first story missions in Chapter 2. To initiate it, speak to Phineas T. Ramsbottom, the stranger sitting on a bench outside Flatneck Station.
He invites you to mail him every full set of 12 Cigarette Cards that you gather, and offers payment in exchange. This is a long-term task where you will gradually accumulate cards during your travels - but some of them may prove hard to find.
There are 144 Cigarette Cards available in the world - 12 sets of 12 cards. Every individual card can be picked up at a specific location, or can be found in purchased or looted Premium Cigarette Packs.
The fastest method to acquire all cigarette cards, is definitely by purchasing Premium Cigarette packs from the general store, discarding them, buying new ones and repeating the process until all 144 cards are obtained. It will take less than a hour and will only cost around $2,000, money that you will get back from the mission rewards and by selling duplicates at fences.
Cigarette Card Sets Rewards
| Set | Reward |
| --- | --- |
| First set (any) | Vintage Civil War Handcuffs |
| Famous Gunslingers | Special Snake Oil, $50 |
| Artists, Writers, & Poets | Ginseng Elixir, $100 |
| Vistas of America | Gold Nugget, $100 |
| Gems of Beauty | Platinum Chain Necklace. $100 |
| Flora of America | Special Miracle Tonic, $50 |
| Stars of the Stage | Small Jewelry Bag, $50 |
| Fauna of America | Perfect Rabbit Pelt, $50 |
| Marvels of Travel | Aged Pirate Rum, $50 |
| World Champions | Valerian Root, $50 |
| Amazing Inventions | Volatile Dynamite. $100 |
| Horses | Special Horse Medicine, $50 |
| Prominent Americans | Eagle Feather x3, $50 |
| All 12 Sets | $200 |
Smoking and Other Hobbies (Cigarette Cards Collectible): Mission Info
Rewards

Various. $200.00 for finding all cards.

Notes

This Stranger quest begins the Cigarette Cards Collectibles activity.
Smoking and Other Hobbies (Cigarette Cards Collectible) Video Walkthrough