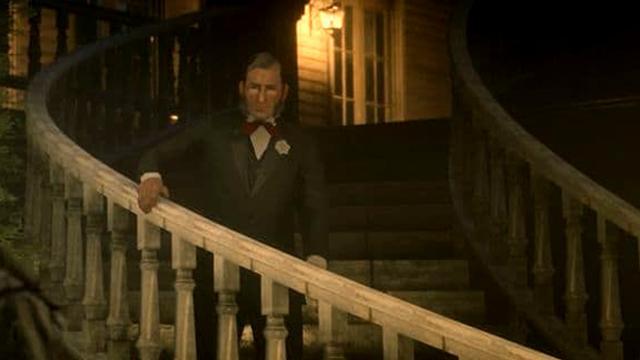 Idealism and Pragmatism for Beginners is a Strangers side mission in Red Dead Redemption 2 given by Henri Lemieux.
The mission becomes available after completing The Gilded Cage in the RDR2 Story Mode.
Open Mayor Lemieux's letter to activate. Only available between 10 PM and 5 AM.
Idealism and Pragmatism for Beginners Mission Walkthrough
Idealism and Pragmatism - Part I
The Mayor of Saint Denis, Mr. Lemieux, needs help persuading an art critic that the paintings in his museum are genuine.
This mission begins at the mayor's house, on the northwest edge of Saint Denis. After the cutscene, drive to the art gallery to the east. Once you reach Professor Shiftacre, follow him from a safe distance.
After he takes a left and walks toward the fountain, with no witnesses in sight, confront him. You will need to beat him a few times to intimidate him sufficiently. Return to Jean Marc to complete this assignment.
Idealism and Pragmatism - Part II
Mayor Lemieux wants to convince newspaper tycoon Hector Fellowes that a donation to his new public library will be worthwhile.
Open Mayor Lemieux·s second letter; available between 10pm and 5am only.
After visiting the mayor's house, head to the highlighted area to the north of Saint Denis. When the red coach arrives, trot alongside il and press Square/X to jump on board. Follow the onscreen prompts lo intimidate Hector Fellowes.
Idealism and Pragmatism - Part III
Suspecting that his assistant, Jean-Marc, is going to report him to the newspapers, Mayor Lemieux seeks to silence him.
Your target this lime is Jean Marc, the man that accompanied you during your earlier "meeting" with Professor Shiftacre. Head to Rue de Zacharie, a couple of blocks to the south, and confront Jean Marc as he's about to enter his house.
You now need to carry him back to the mayor's house without being detected. To do so, walk through the park right in front of you, use the exit on the northeast side, then head west followed by north to reach your destination.
After following Lemieux to the back of his property, you have a choice lo make between killing Jean Marc (in which case you'll need to drop his body in the waler) or letting him go, which leads to an honor gain. If you opt to kill Jean Marc, you will lose a little honor, but enjoy a permanent 10% discount in all shops in Saint Denis.
Idealism and Pragmatism for Beginners: Mission Info
Mission Type

Stranger Side Mission

Mission Giver

Henri Lemieux

How To Unlock

Open Mayor Lemieux's letter to activate. Only available between 10 PM and 5 AM.

Location

Saint Denis (Bayou Nwa, Lemoyne)

Available After Mission (Story Mode)
Rewards

Honor or 10% Discount in Saint Denis shops (based on choice)

Featuring

Professor Shiftacre
Idealism and Pragmatism for Beginners Video Walkthrough