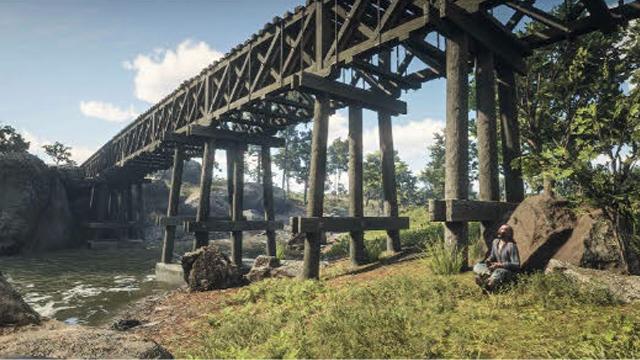 The Wisdom of the Elders is a Strangers side mission in Red Dead Redemption 2 given by Obediah Hinton.
The mission becomes available after completing Fleeting Joy in the RDR2 Story Mode.
The Wisdom of the Elders Mission Walkthrough
The Wisdom of the Elders - Part I
A collapsed, sick man is returned to Butcher Creek and more is revealed about the village.
Head to the base of the long railway bridge directly to the west of Van Horn. Pick the man up when he collapses and carry him back to Butcher Creek, a short distance to the north.
The Wisdom of the Elders - Part II
Butcher Creek is saved from a pack of wild dogs and details of the curse on the town come to light.
Head to the highlighted area behind the house and kill the mangy dogs that attack you. Note that melee attacks followed by hip shots work well to repel them if they get too close.
A second highlighted zone now appears by the bridge: run there and save the villager, then assist a second individual that runs across the bridge. Afterwards, escort them both back to their building.
The Wisdom of the Elders - Part III
Arthur goes searching for the supposedly "cursed" charms.
Ride to the forest to the southwest of Butcher Creek. You have 13 cursed objects to destroy in the highlighted area. They all hang from trees, with their wind chimes revealed when you activate Eagle Eye.
The most reliable way to spot them, though, is to keep an eye on your radar: whenever you move within proximity of a cursed object, a red dot briefly appears on the mini-map, showing you its exact position.
The Wisdom of the Elders - Part IV
Arthur returns to Butcher Creek to tell Obediah the charms have been destroyed.
Return to Obediah when you're done.
The Wisdom of the Elders - Part V
Deep down the mine the secret of the curse is revealed, but bringing it to light proves difficult.
Ride to the mine to the northwest of Butcher Creek. Tap X/A repeatedly to remove a plank from the entrance, then walk inside. After the explosion, head through the opening on your left. You will soon notice lhal the fumes take a gradual toll on your health meter. This serves as a time constraint, but you should still stop and loot the bodies on the way - some of them are holding valuables.
Keep advancing through the network of tunnels until you reach the exit. A cutscene is triggered as you return lo Butcher Creek. When il ends, collect the bill stacks and the letter on the nearby table before you leave.
The Wisdom of the Elders: Mission Info
Mission Type

Stranger Side Mission

Mission Giver

Obediah Hinton

Location

West of Van Horn Trading Post (Roanoke Ridge, New Hanover)

Available After Mission (Story Mode)
The Wisdom of the Elders Video Walkthrough