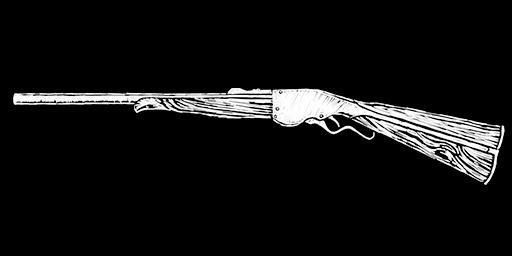 The Evans Repeater rifle has a high bullet capacity and is devastating at medium and long range, with an especially high rate of fire. This gun can use Regular, High Velocity, Split Point, Express and Explosive repeater ammo. It also has customization options, including Stocks, Sights and Wraps.
The Evans Repeater is a powerful long-range rifle that's known for being in John Marston's arsenal during the events of the first Red Dead Redemption game.
Weapon Information
Weapon Statistics
Damage

50.00

Fire Rate

62.00

Accuracy

74.00

Range

65.00

Reload

62.00

Overall

62.6
Notes

Previously available in Red Dead Online only, this weapon was also added to Story Mode for the PC Release of RDR2 on November 5, 2019 and for other platforms on December 13, 2019.
Wheeler, Rawson & Co. Catalogue Description (in-game):

The new and improved Evans Repeater is the highest grade repeating rifle ever turned out by B.D. and Co. It is well known that this fine mechanized firearm requires little academic aptitude. Simply shout a sobriquet, pull the trigger and repeat.
Appearances
Release Date

March 5, 2019

Game Edition

Red Dead OnlineRDR 2 Story Mode

Title Update

1.06 February 2019
Screenshots
Artworks
Coming soon.
Videos