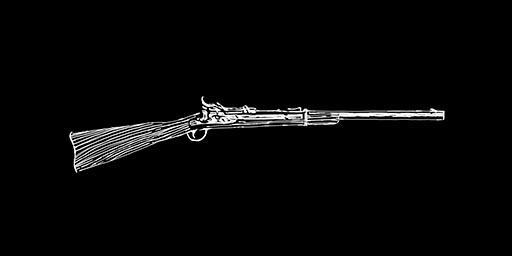 The Springfield Rifle is a Rifles weapon featured in Red Dead Redemption 2 and Red Dead Online.
The design of the Springfield Rifle is based on a real life Springfield Model 1873 "Trapdoor" Carbine. The in-game version of the weapon is manufactured by Lancaster.
This weapon can be customized at any of the Gunsmiths.
How to get the Springfield Rifle in Red Dead Online:
The Springfield Rifle can be purchased in Red Dead Online at any Gunsmith or from the Handheld Catalogue, for a price of $156.00 or 7 Gold Bars .
It's unlocked for purchase after reaching Rank 38 in Red Dead Online.
How to get the Springfield Rifle in RDR2 Story Mode:
The Springfield Rifle can be purchased in RDR2 Story Mode at the Gunsmith for a price of $120.00.
It becomes available after completing Eastward Bound in Story Mode.
Springfield Rifle Description:
A military favorite, the Lancaster Springfield is a powerful breech-loading weapon designed for medium to long-range combat. The high accuracy makes this weapon effective against large mammals, but the slow firing rate may be an issue when trapped in close quarters. This gun is a single-shot weapon, and can use Regular, High Velocity, Split Point, Express and Explosive rifle ammo.
Springfield Rifle Statistics
Damage

80.00

Fire Rate

30.00

Accuracy

78.00

Range

75.00

Reload

43.00

Overall

61.2
Unlock Rank

38

Ammo Capacity

1
Springfield Rifle: Information
Wheeler, Rawson & Co. Catalogue Description (in-game):

A perfect shot crafted by Lancaster

The rifle that modernized fire power is the Lancaster Springfield, the perfect breech-loading rifle. Spend at least six months and practice target shooting every day and we guarantee you will become true of aim.
Springfield Rifle: Appearances
Release Date

October 26, 2018

Game Edition

Red Dead Online RDR 2 Story Mode
Screenshots
Artworks