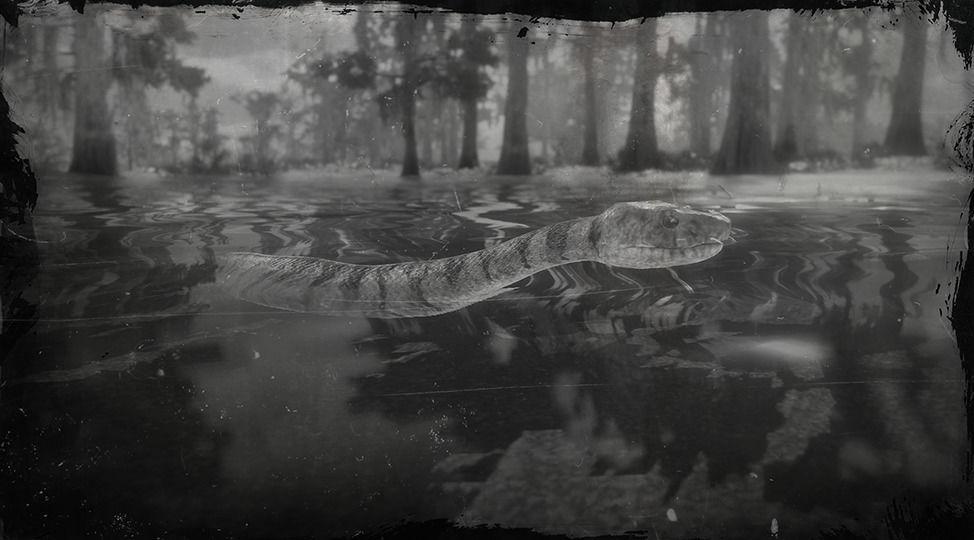 The Midland Water Snake is a Small-sized animal of the Snake species, featured in Red Dead Redemption 2 and Red Dead Online.
This animal can be hunted and skinned. Studying and skinning the Midland Water Snake is required for the "Zoologist" and "Skin Deep" Achievements.
Midland Water Snake Details & Location:
Midland Water Snakes are native to the coastal shores of Roanoke Ridge and swamplands of Lemoyne. Their carnivorous diet consists of game, frogs, salamanders, and fish. A Bow with Small Game Arrows is considered to be the best weapon to wound or kill a snake of this size. Their skin can be used for crafting, and their meat is edible, though considered to be stringy.
Midland Water Snake Hunting Tips:
The Midland Water Snake yields a skin and stringy meat. Used in crafting and cooking or can be sold. Use a Bow with a Small Game Arrow for a clean kill.
Midland Water Snake Info
Scientific Name

Nerodia sipedon pleuralis
Midland Water Snake Appearances
Game Edition

Red Dead OnlineRDR 2 Story Mode
Screenshots
Artworks
Coming soon.