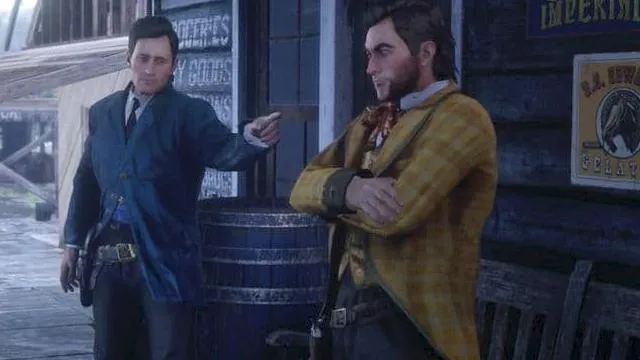 Oh, Brother is a Strangers side mission in Red Dead Redemption 2 given by Proetus and Acrisius .
The mission becomes available after completing Chapter 4 in the RDR2 Story Mode.
Oh, Brother Mission Walkthrough
Oh, Brother - Part I
Two brothers seeking adventure in the West, Acrisius and Proetus, have bottles shot off their heads to prove their bravery.
Approach the two brothers arguing outside Valentine's general store. After the cutscene, shoot the bottles above their heads, triggering Dead Eye to ensure that you don't accidentally kill them.
Oh, Brother - Part II
In order to prove their mettle brother Acrisius and Proetus take punches in front of a local woman, Helen.
On a subsequent visit to Valentine at least 24 in-game hours later, you can meet Proetus and Acrisius again in the backyard of the saloon. This time they will ask you to punch them.
Oh, Brother - Part III
After floating over a waterfall in barrels and injuring themselves, the two brothers realize how foolish their attempts to prove themselves have been.
A further 24 in-game hours later, at your earliest convenience thereafter, the twins take on their ultimate challenge at Cumberland Falls, to the west of Valentine. Push the barrels, then get on your horse and ride with Helen to the highlighted area downstream.
Oh, Brother: Mission Info
Mission Type

Stranger Side Mission

Location

Valentine (The Heartlands, New Hanover)

Available After Mission (Story Mode)
Oh, Brother Video Walkthrough