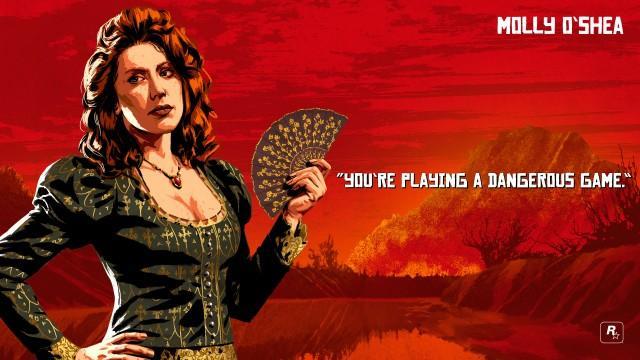 Molly O'Shea is a character that appears as a Companion in Red Dead Redemption 2.
She is a member of the Van der Linde Gang.
A Dublin girl and the object of Dutch's affection, for now at least, Molly O'Shea is too high-strung for a life on the run and it's all starting to take a toll on her.
She claims to be from a well-to-do Irish family who came over to America on a romantic whim in search of adventure and excitement. Molly certainly found that in Dutch van der Linde but wants more than he can, or is prepared to, give her.
She considers herself a few cuts above the other gang members, which hasn't won her many supporters in camp.
Molly O'Shea: Character Info
Role

Companion

Gender

Female

Nationality

Ireland

Performer / Actor

Penny O'Brien

Affiliation

Van der Linde Gang
Molly O'Shea: Appearances
Game Edition

RDR 2 Story Mode
Molly O'Shea Missions in Red Dead Redemption 2:

Appearances in Story Missions:
"You're playing a dangerous game."
Screenshots
Artworks