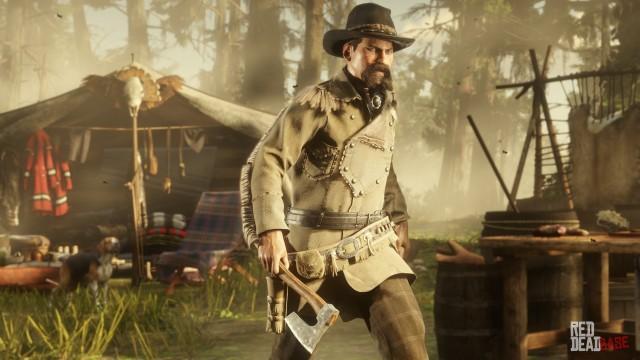 Release Date

September 18, 2019

Platforms

PC

PlayStation 4

Xbox One
The Red Dead Online world grows with more content from the Frontier Pursuits Update - with new competitive gameplay, daily objectives, rewards, and player customization.
New Content – PlayStation 4 & Xbox One
[October 29, 2019] A new Limited-Time Showdown Mode has been added to Red Dead Online: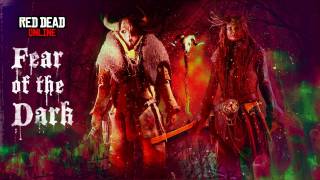 In the battle between the Hunters and the Night Stalkers, the Hunters must steal the masks that give supernatural powers to the Night Stalkers. The more they steal, the weaker...
[October 1, 2019] A new Free Roam Event has been added to Red Dead Online:

Condor Egg: Eagle-eyed Collectors Rank 4 and above are invited to join in the search of a rare and high value Condor Egg. Keep an eye on the skies for circling Condors but beware of roaming bandits seeking to line their own pockets. The first player to find the Egg will get to keep it to do with as they wish.

[October 1, 2019] An existing weapon has been added to Red Dead Online:
The first of 10 new weekly Legendary Bounties have been added to Red Dead Online. Licensed Bounty Hunters can access a Legendary Bounty wanted poster at any Bounty Board.

Weekly Collectible List:

[September 17, 2019] Pearls of the Sea Collection:

Durant Pearl Bracelet
Pelle Pearl Necklace
Bonnard Pearl Ring

[September 24, 2019] Saint Denis Collection:

Cognac
Beaulieux Diamond Ring
Beauchêne Ruby Earrings

[October 8, 2019] Naturalists Collection:

Cherrywood Comb
Egret Egg
Bitterweed

[October 15, 2019] Saint Denis Collection:

Cognac
Beaulieux Diamond Ring
Beauchêne Ruby Earrings

[October 22, 2019] Cheaters Suit:

Queen of Wands
King of Cups
Ace of Pentacles

[October 29, 2019] Witch Hunt Collection:

Cardinal Flower
Vulture Egg
Splintered Arrowhead

[November 4, 2019] Fortune Teller's Collection:

Ace of Cups
Ace of Wands
Absinthe

[November 12, 2019] Herbalists Collection:

Blood Flower
Chocolate Daisy
Creek Plum

[November 19, 2019] Bowman's Collection:

Flint Arrowhead
Raw Arrowhead
Agate Arrowhead

[November 26, 2019] Foundation Collection:

Feldspar Arrowhead
Endicott Diamond Earring
Emmeline Coral Earring

[December 3, 2019] Gambler's Choice Collection:

Ace of Swords
Gran Corazon Madeira
1800 Gold Dollar

New Permanent Clothing items have been added to the Wheeler, Rawson & Co. Catalogue:

Trilby Hat
Hurley Cap
Ledbetter Hat
Bartley Cap
Fuentes Poncho
Killiman Vest
Chaftin Shirt (Male Only)
Olmo Shirt (Male Only)
Huerta Shirtwaist (Female Only)
Winsford Shirtwaist (Female Only)
Hadley Skirt (Female Only)
Hollman Pants
Strayhorn Boots
Inglett Scarf
Bandana – New Patterns
Patterened Bandana – New Patterns
Trimmed Bandana – New Patterns
Rutherford Boots
Tobacco Hat
Thacker Hat
Torranca Coat
Manstilla Poncho
Creswell Skirt (Female Only)
Sierra Boots
Pickett Boots
Dunaway Coat
Lebetter Hat
Fuentes Poncho
Kiliman Vest
Parson Boots (Male Only)
Rowland Boots (Female Only)
Purkiss Hat
Cerrada Boots
Farley Shirt (Male Only)
Tillson Sweater
Pearrow Hat
Union Cap
Cibola Boots
Cardenas Poncho
Chumley Flat Cap
Crutchfield Suspenders
Dress Shoes (Male Only)
Aguirre Boots (Female Only)
Fulbright Coat (Male Only)
Ballard Jacket (Female Only)
Salcedo Shirt (Male Only)
Goodale Shirtwaist (Female Only)
Bandanna (new tints)
Trimmed Bandana (new tints)
Covington Hat
Patterned Bandana

New time-limited items have been added to the Wheeler, Rawson & Co. Catalogue:

Folwell Hat
Dillehay Hat
Prieto Poncho
Eberhart Coat
Morales Vest
Carver Pants
Cardozo Vest

New Masks have been added to Red Dead Online:

Freak Mask
Horror Mask
Creature Mask
Masquerade Mask
Slaughter Mask
Swine Mask

New emotes have been added to the Wheeler, Rawson & Co. Catalogue:

Gentle Wave
Applause
Thumbs Down
Hush Your Mouth
General / Miscellaneous
Fixed an issue that resulted in Daily Challenge streaks resetting incorrectly
Fixed an issue that resulted in Bounty Hunter Missions not paying the correct rewards
Various stability fixes
Various localization/text fixes


Screenshots
Artworks
Video