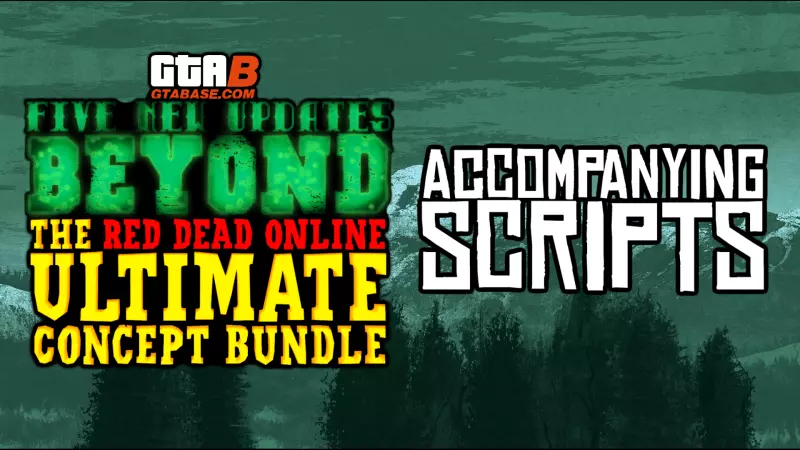 Page 3 of 6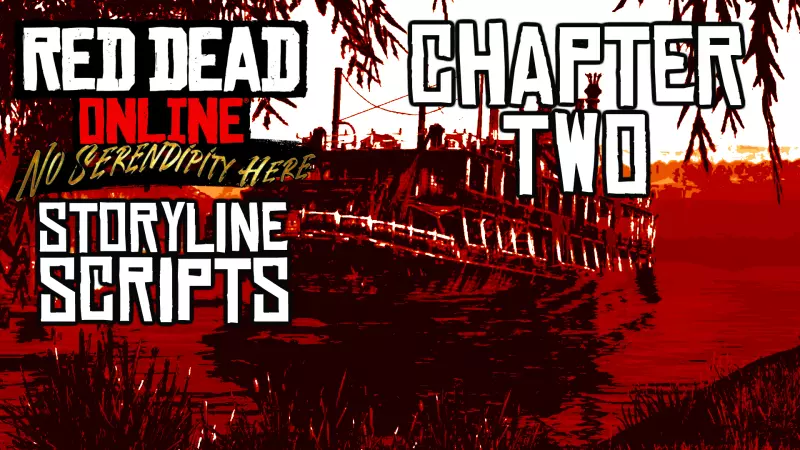 Update 13: "Across the Border"
The storyline is kicked off by Sadie sending the players a letter, it reads:
[My friend, meet my by the border. I found a way across the river. I'll see you then.]
Mission 5: "Una Tierra Extranjera"
The players approach Sadie at the dock around the border as she's unravelling some rope attached to a raft. She notices them.
Sadie: Ah, there you are. And right on time, too. Now, I know it ain't much, but this should get us across the border. Now, hop on board, daylight's burnin'.
Gameplay resumes as the players walk onto the raft, which is then detached and begins floating downstream – Much like in the RDR1 mission – Sadie talks to the players.
Sadie: Now this is on loan to us from some Irish feller, says he'll get it back from where we dock tomorrow. Just try not to somehow break the damned thing or fall overboard. These waters ain't great for swimmin' in – I'll tell ya, they don't care how many of those Sporting Games medals you got.
After speaking, a slight fuss can be heard in the distance. Not too long after, the players are attacked from Torquemada Bandits on the shore.
After fighting off the enemies and riding the raft to the dock, another cutscene plays.
Sadie: Well, that weren't too leisurely. Remind me to stick to the ferries from now on, you hear?
The players nod, helping Sadie tie up the raft.
Sadie: Great, now I'm gonna head on down to one of the local downs, Chuparosa, and chat to some of the lovely citizens about the Torquemadas and our good friend Rogelio. An old friend helped me brush up on my Spanish since we last spoke, so hopefully I can learn somethin' useful. Come meet me in a day or two and we can work from there. Until then, feel free to get yourself acquainted with the place. You're in a new country! Ain't that exciting!
Sadie mounts her horse, and rides off. Fade to black.
Mission 6: "Enfrentamiento Mexicano"
The players meet up with Sadie near the fountain in Chuparosa. She huddles in with them.
Sadie: Now, either my Spanish ain't as good as my friend said, or people here don't like talkin' about no-good murderers, or both…
Camera cuts to a bit further away from the players and Sadie where some sketchy looking citizens whisper to eachother whilst watching the group. One gets on his horse and rides away whilst the other remains watching them. They follow the players and Sadie into the nearby bar.
Some time passes. Later on in the evening, some tough gang members ride into town and approach the spy. They whisper into his ear and he points towards Sadie. The gang lieutenant makes his way over to Sadie.
Lieutenant: A curious little bitch, aren't you?
Sadie: Excuse me?
The lieutenant clasps his revolver in his holster. Sadie takes notice to this.
Sadie: So, it's going to be like that.
Sadie smashes her glass against his face and pulls the revolver from the lieutenant's holster, she shoots him in the chest and flips a table in the bar. The players all duck for cover, and gameplay resumes with a shootout. Players must survive five waves of increasingly difficult enemy attackers.
After completing the encounter, Sadie will address the players in gameplay.
Sadie: That big bastard that came for me, check if he had anything on him. He seemed important.
The players are guided to loot the corpse, which will trigger a cutscene.
The player who looted the corpse searches the body, picking up some money which is divvied up between the rest of the group, a fancy pocket watch which they keep for themselves, and a card which they hand to Sadie.
Sadie: Well, this looks like an invite to a fancy ball in Escalera, hosted by one Governor Allende. It's this weekend, too. Huh, how about you and me crash a party?
Mission 7: "Alma de la Fiesta"
The players meet up with Sadie in the town of Escalera, just outside Allende's manor. Sadie hands them guard outfits.
Sadie: Now, I hope these fit. As much as I'm done with subtle, it's only to get us in there. Put on these disguises just to get in here, once we're all in position, you kill the guards and let me talk to Allende. Got it?
The players nod, and there is a fade to black before the gameplay resumes. The players are in the guard outfits. They are allowed to walk right into the party which is filled with well dressed socialites and high-ranking military officials. Sadie follows in a classy dress with the stolen invite, allowing her to get inside.
The players must walk around in order to identify Allende. Once they find him, a short cutscene will trigger.
Allende glances at the players, and realises they're not on his guard staff. He points at them.
Allende: You! You are not my guards! Seize them!
This triggers a deadeye sequence in which the players must kill approaching guards from each angle. Once this is done, Sadie walks up to Allende and pistol-whips him.
Sadie: Listen here you wrinkly son-of-a-bitch, I'm here for justice for Zoe Rosales, so you're going to tell us about everyone in the Torquemada Bandits and where to find them. If you're nice about it, I might just not shoot that annoying moustache straight off your face.
Allende begins laughing.
Sadie: This ain't no funny business, mister.
Allende: You Americans, you're so… How do you say it? Brash? You get nothing from me.
Sadie: Well, ain't that a shame for you.
As Sadie is about to pull the trigger, the gun is shot out of her hand by someone in the distance. He takes a step forward. It's Rogelio Lozano, Zoe Rosales' ex boyfriend.
Rogelio: I hear you want to find out about my people, Mrs. Adler. You could have simply came to our fortress in the mountains, but instead you chose to die at a party.
The players raise their guns at them, but he waves his finger at them before running out with Allende. The players are surrounded by more Torquemadas as Rogelio and Allende escape. This triggers another deadeye sequence in which the players must shoot the attacking bandits, leading into a gameplay.
As gameplay resumes, Sadie runs out of the room, shouting back to the players.
Sadie: You lot hold these bastards off, I'll get Lozano!
The players must fight off another wave of attacking guards before shooting their way out of the compound and fleeing the town.
After fleeing the town, the mission ends.
Mission 8: "El Alto Castillo"
Approaching the road to Torquemada, the lead player is quickly grabbed to the side by Sadie who is hiding behind cover.
Sadie: You tryin' to get shot, ya damned fool? They have riflemen on top of all the cliffs!
The player leans out of the cover to see a slight shining glint in the distance.
Sadie: Don't worry, I got a plan that worked for me before. Follow me.
Cut to some nearby plains with some grounded hot-air balloons.
Sadie: Now, you get one of you flyin' and the other shootin' and we have the perfect distraction for me to sneak up from the path. Sound good?
The players nod and gameplay resumes. Players enter the hot air balloons and fly to Torquemada, with one pilot and one sniper per balloon. Once Sadie reaches the top of the hill, the players land nearby for the final push into the building. Everyone charges in together and after all the guards have been killed, it triggers one more cutscene.
There is a locked door, which everyone stands by together. The lead player kicks it open, to find Rogelio cowering behind his bed.
Sadie: Not so tough without your thugs, are you?
Rogelio: I know why you're after me, it's Zoe! Look, I didn't want to kill that slut. She wasn't worth it! It was all my father, I swear! Please, I didn't care that much!
Sadie: Well, ain't you the polite ex? I guess we'll have to get that father of yours next, then?
Rogelio: Wait, no! Plea-
He is cut off by Sadie shooting him straight in the head. She holsters her gun and walks past the players. One player shrugs and spits on the floor, they all follow her outside.
Sadie: Well, wasn't that some holiday. Look, I reckon it'll be a while before I find out where that snotterin' lil' shit's daddy was, but find me in one of the saloons up North and I'll keep ya posted, okay? We're gonna make sure everyone involved in the death of that poor girl is brought to justice. Ya hear?
The players nod, and the lead player hugs Sadie farewell. The camera pans to the Mexican sun and back down to show the players sitting outside the bar in Chuparosa. They each put a drink down and go for their horses. Fade to black, mission over.