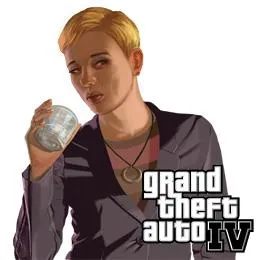 Ilyena Faustin appears as a Supporting Character and Random Character in Grand Theft Auto IV.
Ilyena is the wife of Mikhail Faustin and the mother of Anna Faustin.
Ilyena is very religious, encouraging Niko to have more faith and optimism, and holding a discussion with him about their souls and what the after life is.
Ilyena also appears as a random encounter on Firefly Island, and asks Niko to confront Anna's new boyfriend, who is trying to convince her to become a stripper.
Random Encounter
Unlocked after "The Puerto Rican Connection".
Available 24 hours a day.
Found off Wappinger Avenue, on the boardwalk near Funland.
Ilyena asks Niko to see Anna's new boyfriend, who is trying to turn her into a stripper. Niko can choose to kill, beat up or let Anna's boyfriend run away, which will result in different phone calls from Ilyena.
Ilyena Faustin: Character Info
Game Edition

Grand Theft Auto IV
Gender

Female

Born In Year

1970 (38 years old in 2008)

Nationality

Russia

Location

Mansion in Beachgate, Broker, Liberty City

Also Known As

Lena

Performer / Actor

Marcy McGuigan

Family

Affiliation

Faustin-Rascalov MafiyaNiko Bellic

Vehicles

DF8-90
Ilyena Faustin: Appearances
Ilyena Faustin Spawn Locations in Grand Theft Auto IV

Where to find the Ilyena Faustin in

Grand Theft Auto IV

:

She can be found in her random encounter off Wappinger Avenue, on the boardwalk near Funland.

Appearances in Story Missions: