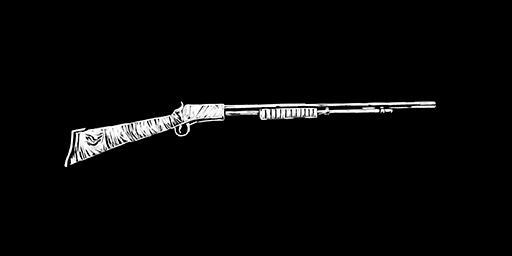 The Varmint Rifle is a weapon in the Rifles class featured in Red Dead Redemption 2 and Red Dead Online.
The design of the Varmint Rifle is based on a real life Winchester Model 1890. The in-game version of the weapon is manufactured by Lancaster.
This weapon can be customized at any of the Gunsmiths.
How to get the Varmint Rifle in Red Dead Online:
The Varmint Rifle can be purchased in Red Dead Online at any Gunsmith or from the Handheld Catalogue, for a price of $72.00 or 3 Gold Bars .
It's unlocked for purchase after reaching Rank 8 in Red Dead Online.
How to get the Varmint Rifle in RDR2 Story Mode:
The Varmint Rifle can be purchased in RDR2 Story Mode at the Gunsmith for a price of $72.00.
It becomes available after completing the mission Eastward Bound in Story Mode.
Varmint Rifle Description:
The quick-firing Lancaster Varmint Rifle is designed for hunting small mammals and large birds, using a special low-caliber type of ammunition with reduced damage. However, the large ammo capacity and fast fire rate make this an effective weapon against large groups of enemies. This gun has an ammo capacity of fourteen rounds, and can only use .22 caliber ammo.
Varmint Rifle: RDR2 Statistics
Damage

42.00

Fire Rate

65.00

Accuracy

76.00

Range

60.00

Reload

68.00

Overall

62.20
Unlock Rank

8

Ammo Capacity

14
Varmint Rifle: RDR2 Info
Notes

FREE for owners of the Special/Ultimate Edition
Wheeler, Rawson & Co. Catalogue Description (in-game):

It is absolutely guaranteed to be the best make of this style rifle on the market. Shoot it once and you will see that it brings down varmints with a splendid wallop unequalled by other low calibre rifles. A HUNTING RIFLE THE WHOLE FAMILY CAN ENJOY.
Varmint Rifle: RDR2 Appearances
Release Date

October 26, 2018

Game Edition

Red Dead OnlineRDR 2 Story ModeSpecial Edition
Variant

Naturalist's Varmint Rifle (Red Dead Online variant Unlocked through Naturalist Role progression)

Appearances in Story Missions:
Screenshots
Artworks
Coming soon.