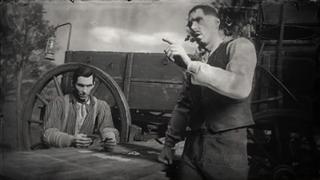 This is the very first mission, played as part of the Red Dead Online Introduction.
Job Information
Game Mode

Story Mission

Mission Number

1

Description

Horley suggested you go to see Clay Davies, a horse thief, to learn the ins and outs of the horse-rustling trade.

Mission Giver

Mr. Horley

Job Variation

Team

Number of Teams

1

teams

Players

1 - 4

players

Number of Lives

3 Team Lives

Weapons Setting

Standard Weapons
Notes

The Cattleman Revolver, Carbine Repeater, Hunting Knife, Lasso and a Lantern are given to the player as starting items.

Reward

Treasure Map (with various rewards); First Horse; Rank Up; Unlocks the "Breakout" Trophy / Achievement.
Videos