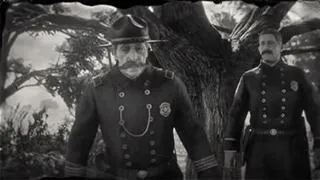 If the Hat Fits... is a Story Mission in Red Dead Online, given by Mr. Horley .
This is a Team mode that can be played by 2 to 4 players. You and your team have 3 shared lives to complete the mission.
Horley directed you toward the Blackwater Police Chief in Pike's Basin.

A conman and outlaw is on the loose. Whether justice is done will depend on your honor.
Mission Objectives
The following are the Mission Objectives required to obtain the Gold Medal in the mission "If the Hat Fits...":
Complete mission in under 9 mins
Enemies killed
Enemies stealth killed
Enemies taken out with headshots
Lives Lost
Avoid taking damage
If the Hat Fits...: Job Details
Notes

This mission requires a moral choice that affects the player's honor.
If the Hat Fits...: Release Details
Videos