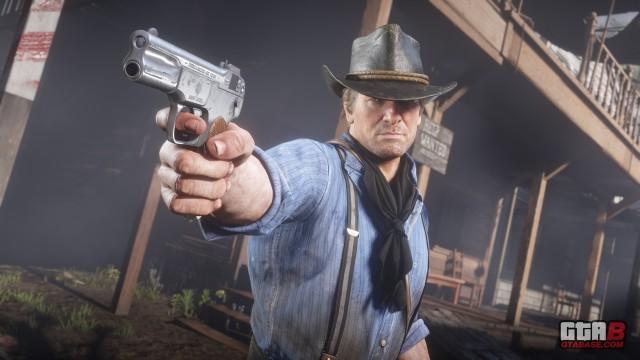 Alongside the new early access content added to Red Dead Online with Moonshiners, PlayStation 4 players also get all the recent Story Mode updates that debuted in Red Dead Redemption 2 for PC.
This includes Photo Mode, which lets you capture and share stunning images from the frontier with an array of features including free-form camera movement and the ability to add Filters, Stickers or Text and upload your shots directly to Social Club.
In addition to Photo Mode, Red Dead Redemption 2 on PS4 also gets:
Story Mode Bounty Hunter Missions: track down wanted criminals Herman Zizendorf, Camille de Millemont and Bart Cavanaugh
Story Mode Gang Hideouts: take on the deadly Del Lobos gang at Gaptooth Breach and Solomon's Folly
Story Mode Treasure Maps: Landmarks of Riches and The Elemental Trail
"To The Ends of The Earth" Story Mode Mission
Weapons Added to Story Mode: M1899 Pistol, Evans Repeater, High Roller Revolver and LeMat Revolver
Horses Added to Story Mode: Perlino Andalusian, Red Chestnut Arabian, Warped Brindle Arabian, Few Spot Appaloosa, Gold Palomino Tennessee Walker, Liver Chestnut Morgan, Buttermilk Buckskin Kentucky Saddler
Hidden Trinkets Added to Story Mode: Hawk Talon, Cat Eye, Shark Tooth, Turtle Shell and Crow Beak
Xbox One players can look forward to these additions arriving on January 21st, along with the Red Dead Online early access content announced earlier today.