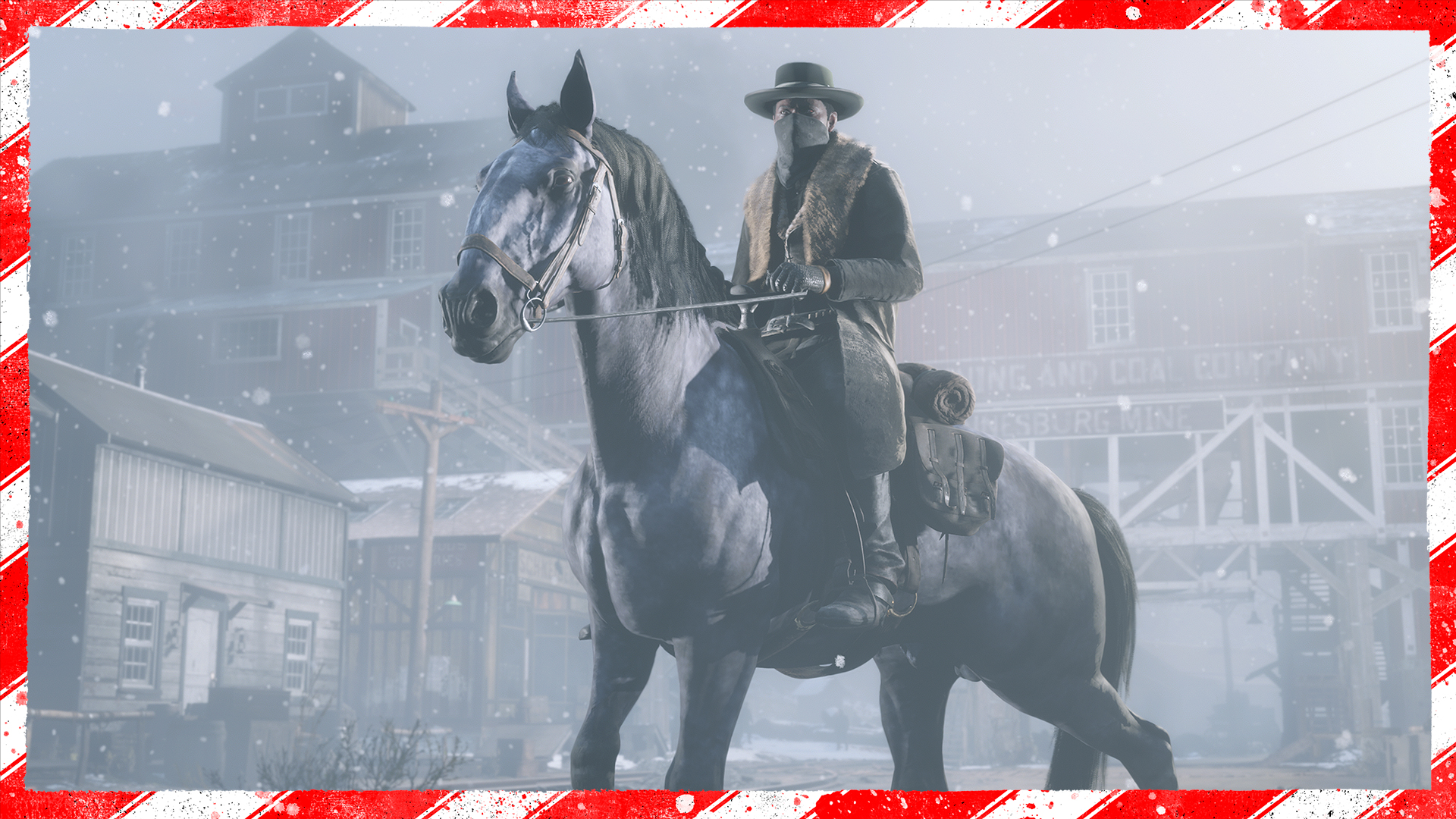 Red Dead Online will be ringing in the holiday season over the next few weeks, with winter weather setting in, limited-time Festive Showdown Modes, decorations at your Camp and Moonshining Shack, gifts and more to tide you over.
'Tis the Season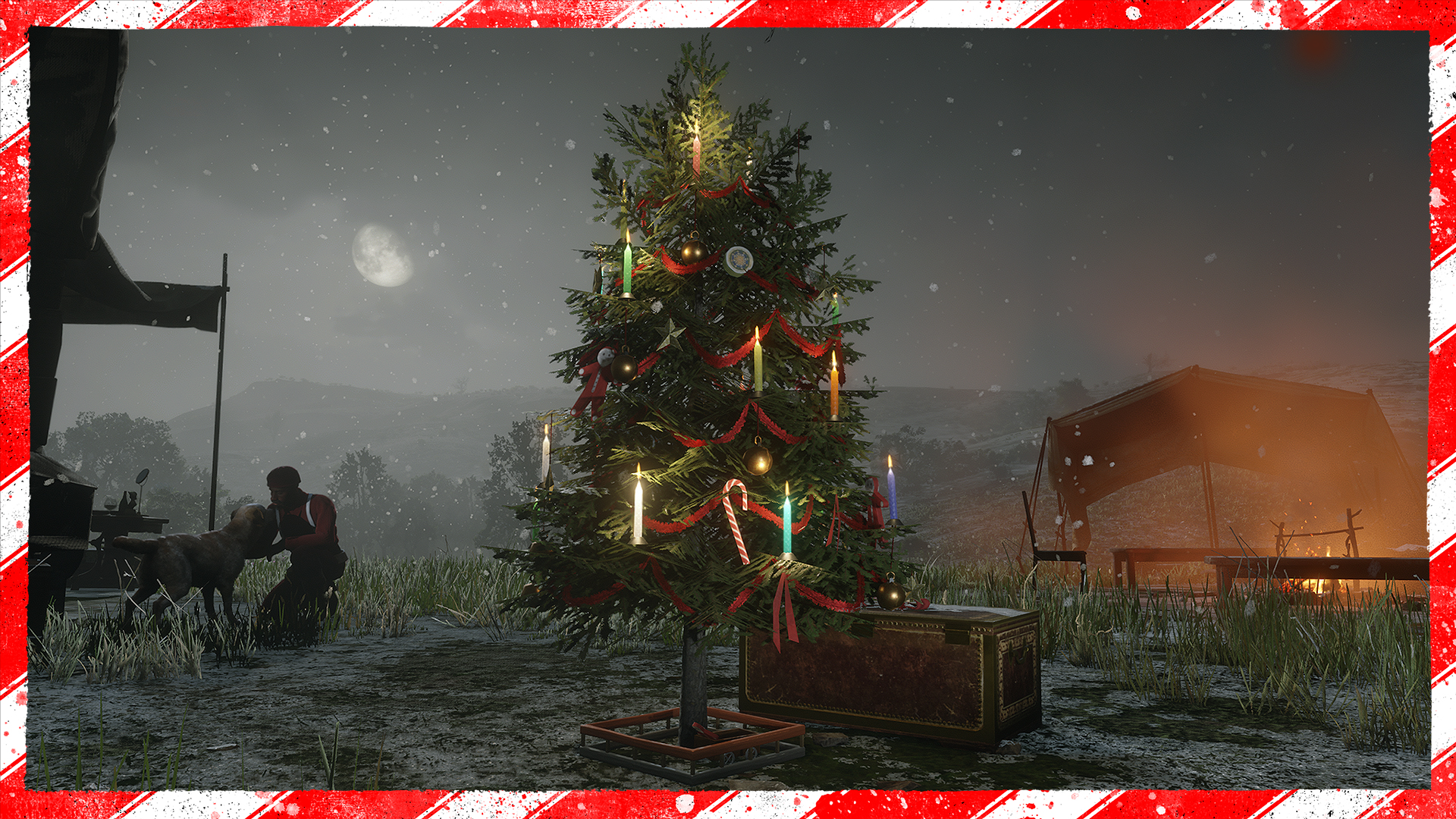 On your travels, you may have heard piano players in the saloons playing festive songs as folk across the country merrily indulge in holiday festivities. Be warned, however, that the changing of the seasons often brings harsh weather to the frontier, with snowfall predicted to arrive as soon as tomorrow. Those keen to make preparations for the winter should be advised that even heavier snowfall may also be on the way, so keep the campfire burning and the stewpot simmering.
Holiday Showdown Modes
Sharpshooters across the land can put their hand-eye to the test in snow-dusted versions of bloody Showdown Modes like Spoils of War, Up in Smoke, and Overrun, while PlayStation 4 players will get exclusive access to festive variations of Gun Rush, Make it Count and Last Stand. Simply fire up the Series from the Online Menu to dive in through January 6th.
Claim Your Holiday Gift Chest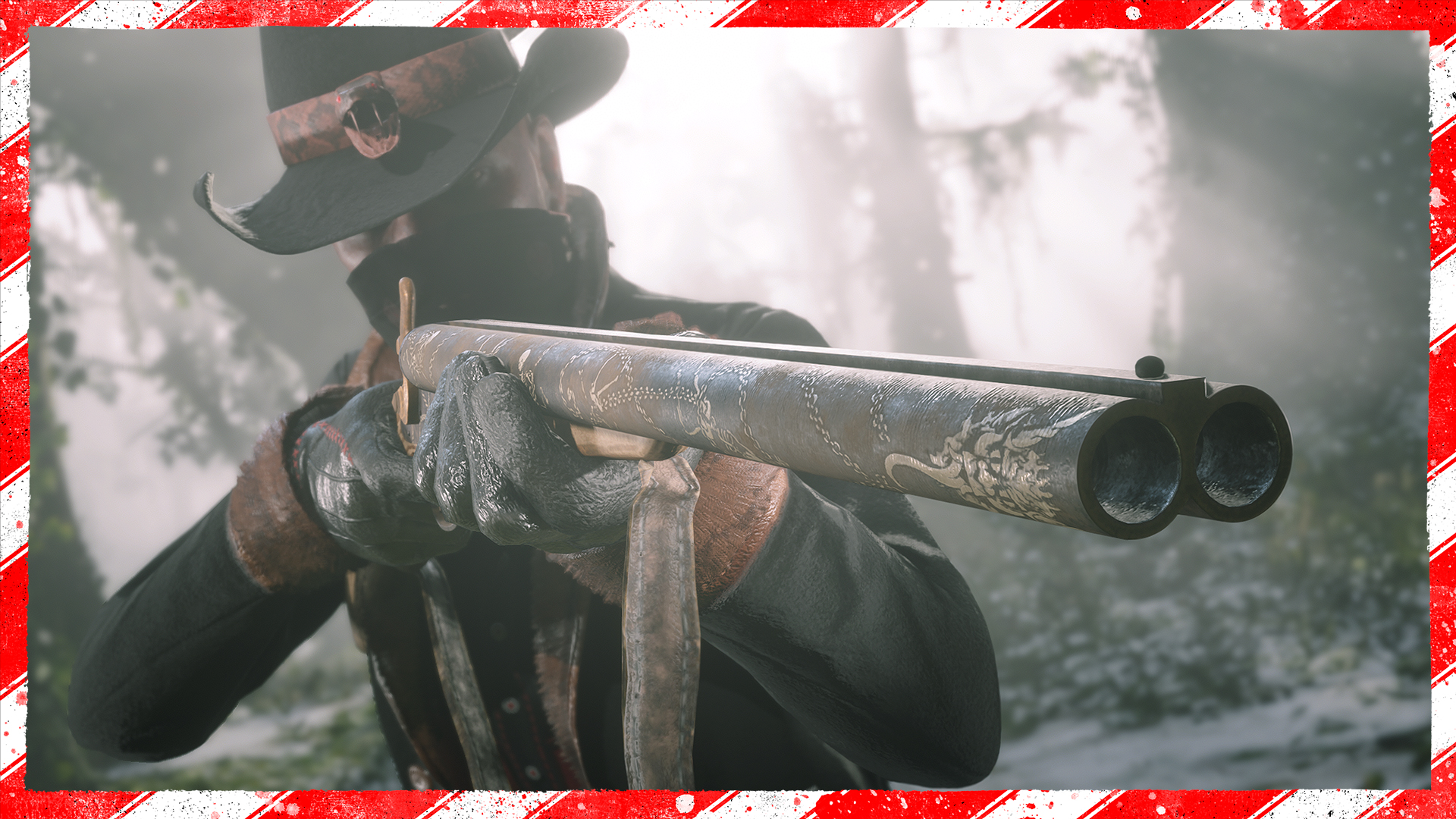 In keeping with the holiday spirit, players who play Red Dead Online between December 23rd - 25th will receive a special seasonal Gift Chest, packed to the brim with provisions and other goodies - including:
The Krampus Double Barrel Shotgun Variant
30 rounds of Incendiary Buckshot Ammo
100 Shotgun Slugs
10 Thyme Big Game
10 Minty Plump Birds
20 Carrots
20 Assorted Biscuits
50 Candies
10 Fine Brandies
10 Special Miracle Tonics
20 Volatile Fire Bottles
2x Creek Plums
2x Agarita
Plus, visit the Benefits section to find Offers for 50% off a Shotgun or Coat during this period.
Bonuses & Benefits
A host of seasonal offerings have already been awarded to all players who have logged in and played on or after December 13th. There's still time to claim the following gifts - simply play Red Dead Online by January 6th and check the Benefits section of the Main Menu to redeem the following coupons:
3,000 Club XP
RDO$200 for starting a new Role
1x Free Trader Resupply Reward
1x Free Weapon Component of your choice Reward
1x Treasure Map Reward
1x Free Moonshiner Mash Refill Reward
30% off one Stable slot Offer
Playing Red Dead Online between December 31st and January 6th will also reward you with a 1,000XP reward for each of the four Specialist Roles available in Red Dead Online: Moonshiner, Bounty Hunter, Trader and Collector.
And players can continue to take 5 Gold bars off the cost of the Butcher's Table and 25% off the cost of the Medium Delivery Wagon, the Bounty Hunter variant of the Schofield Revolver and the Collector variant of the Lancaster Repeater - all the way through January 6th.
And as always, keep an eye on the Benefits section for the latest Offers, Rewards and info in Red Dead Online.
Collectors can get in on the holiday action between December 24th and 30th by sending the Festive Feast Collection to Madam Nazar for a princely sum. Track down a Goose Egg, Cognac and a Thyme Plump Bird to complete the collection. And between December 31st - January 6th, Nazar will be requesting receipt of the New Year Collection, containing the Ace of Wands, Scotch Whiskey and Platinum Pocket Watch.
Twitch Prime Benefits
Players who connect their Social Club account with Twitch Prime will receive the Collector's Bag and the Polished Copper Still Upgrade -- both free of charge. To ensure access to future benefits, make sure to visit Twitch Prime and sign up.
Check Rockstar Support for details and limitations.