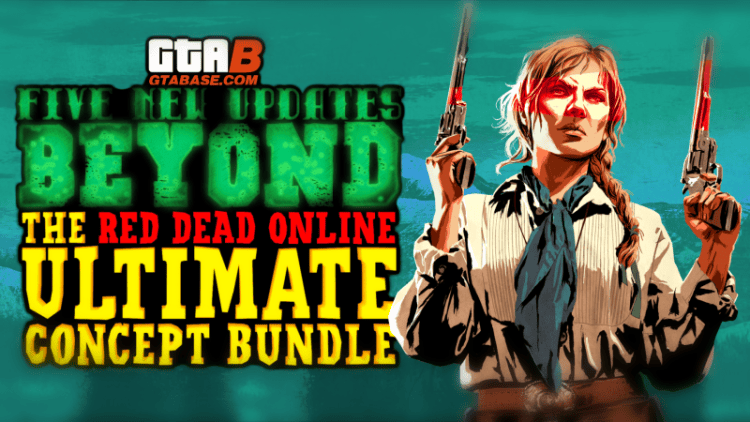 Page 5 of 7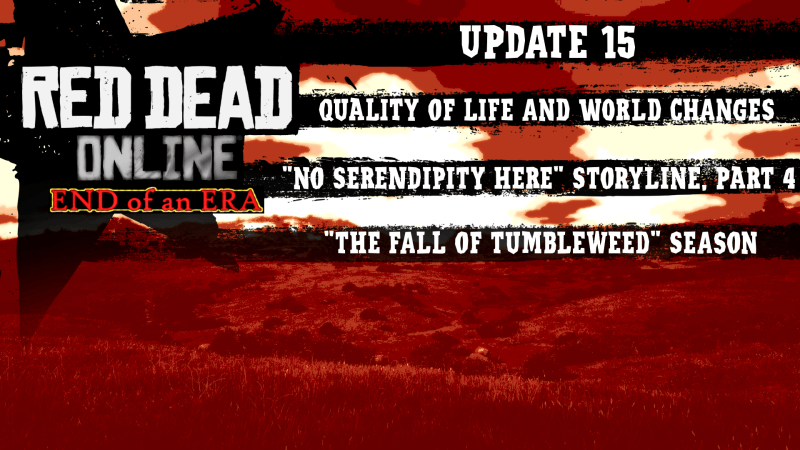 Update 15: "End of an Era"
Seasonal Changes and Events:
Family Flashbacks are no longer with the Marstons around their dinner table, but rather sitting on the porch of the house at Beecher's Hope. The players will sit on the steps and reminisce on the time they spent with John and family.
More familiar locations from Red Dead Redemption are showing up around the map, such as the Pacific Union Railroad Camp, the oil rigs in Plainview, and further rails have been constructed around the Frontier opening up for more train lines. Construction has begun on a station at Manzanita Post.
Tumbleweed has been abandoned and reclaimed by an allied gang.

Coates can be seen here offering new missions. He will sit in the saloon with his feet up on the table. Horatio will run back and forth between here and the bar bringing him drinks.
The general store, gunsmith, stable and butcher shop owners are all still in town but speak much less. They are all wearing black arm bands as a sign of mourning for the Sheriff.
One of the nearby buildings has been turned into a Fence store.
The Tumbleweed Sheriff will no longer be offering missions here. Instead, it'll be a one-eyed Australian man by the name of Randy. He will also comment on bounties which have been brought in – Not in the name of the law, but rather due to gang rivalries.
The bridge just outside of town has now been partially destroyed. Coates will comment on a stagecoach robbery gone wrong here.
"No Serendipity Here" Storyline Progression:
Three new chapters have been added to the 'No Serendipity Here' storyline, taking players through a plan to get revenge against Yara Lozano for kidnapping Sadie Adler, and to finally take down this crime family. The scripts for this can be seen by clicking here.
Chapter 12: Family Treasures
Chapter 13: Taken
Chapter 14: Mrs. Adler, Legend
Miscellaneous Changes and Additions:
Outlaw Pass: Yara's Elite inspired outfits and clothes inspired by Sadie Adler's outfits from across the RDR2 story. There is one new camp pet at the end of the pass: The monkey.
Players can now store up to five more horses at their stable.
Players can now save and favourite weapon loadouts, which can be equipped at Weapon Lockers or from their Horse.
Players can now save and favourite Ability Card loadouts, which can be changed in the ability card menu. There is a five-minute cooldown after changing loadouts.
A variety of new ability cards have been added:

Big Iron: Players deal extra damage when using a revolver but cannot dual-wield.

LEVEL I: +35% DAMAGE
LEVEL II: +50% DAMAGE
LEVEL III: +75% DAMAGE

Hailstorm: Players deal extra damage when dual-wielding revolvers, but long arm weapons will lose 20% of their damage.

LEVEL I: +30% DAMAGE
LEVEL II: +45% DAMAGE +30% ACCURACY
LEVEL III: +55% DAMAGE +45% ACCURACY

Never With One: Players can negate the protection from enemies using the 'Never Without One' ability card.
Sticky Mother: Players can negate the effects from enemies using the 'Slippery Bastard' ability card.

Added a variation of new lines to 'Blind Man Cassidy', including:

"I see you in pain. One final push, and you shall have justice."
"The taste of vengeance is sweet. How strong is your sweet tooth?"
"I see a man, and another hunting him. No, not a man, something else.
"What you have been asking for, it will come soon."
"People don't forget. Nothing gets forgiven."
Justification:
This is a much smaller update due to the scale of the previous releases, and how the next update for Red Dead Redemption 2 will be a $29.99 remaster for Red Dead Redemption as DLC for the title. Here, I wanted to carry on the main part of the 'No Serendipity Here' storyline with three special missions, including the heart-breaking penultimate chapter. I know a lot of people will read the death of Sadie Adler and not be happy, but I honestly believe that giving her the ending she deserves ties up any loose ends related to her not showing up in RDR1 and allows her to come full circle and be reunited with her husband, whilst motivating our characters within their revenge arc.
Tumbleweed needed to be abandoned for the sake of continuity, but with the requirements there for bounties and other content – Turning it into an overrun gang hideout is the best way to manage this. It's important to keep this edge of the map just as alive as it has been previously.