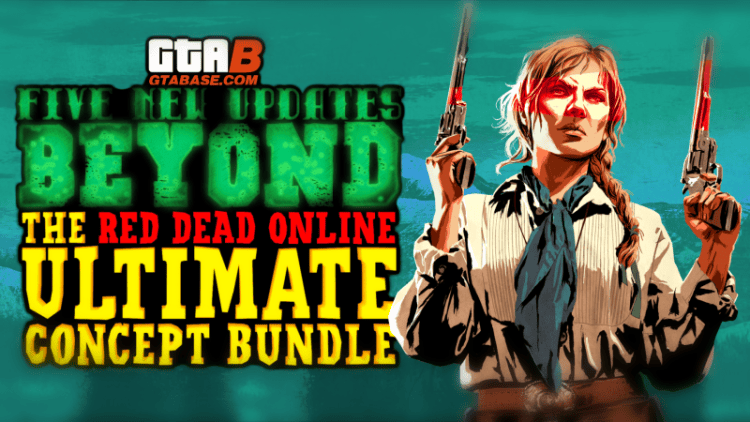 Page 2 of 7
Update 12: "Life on the Frontier: Past and Future"
Seasonal Changes and Events:
The mining settlement of Cochinay has been founded. With access to a fence, general store stall, and fast travel post.
The Serendipity ferry, known for its wreckage in Red Dead Redemption, has crashed at Quaker's Cove. This will begin the new Red Dead Online storyline, "No Serendipity Here" which will span over the next five updates.
Live events:

Event: Throughout the season, bridges between the United States and Mexico will be seen under construction, with progress being made each month until the next update.
Event: An increased amount of boats will be seen traversing up and down the San Luis River each month, too.
Event: "Missing" posters for Zoe Rosales will originally be seen around the Frontier, but will slowly become damaged and defaced as time progresses.
Cutscene: On the final week of the season, Bill Williamson can be seen with some of his gang members inside Fort Mercer. He is walking past them as they're all practising their aim. He tells them the train they're about to stick up will bring a lot of money.
"No Serendipity Here" Storyline Beginning:
The 'No Serendipity Here's storyline will progress over five updates, telling an evolving story in which the players team up with Sadie Adler in the name of a young girl who had an unfortunate breakup with a member of the leading family of the Torquemada Bandits. There is a collection of scripts telling the story of each of these missions, which can be read by clicking here.

Chapter 1: Damage Control
Chapter 2: The Benefits of Friendship
Chapter 3: Failure, in Plain View
Chapter 4: Downhill
Homesteads:
Homesteads are a new feature which can be accessed via fast travel only. Players can enter a building system where they can place walls of varying heights, floors, foundations and roofs in order to plan their dream home.
After completing the house plan, the players will be given a price they can pay immediately or budget over time as they are delivered the supplies to actually build their house over time, and eventually furnish the interior.
These are fully instanced areas within a restricted boundary in order to allow players to fully express their creative freedoms without infringing on other player's builds.
These areas can come in a select set of biomes, including:

Snowy peaks
Desert oasis
Northern valley
Heartlands
Swampland
Tropical paradise
Gold Rush:
Players who have unlocked the "Trades Master" role can now delve into a short, ten-level side role: The Mine Tycoon. This allows players to run instanced mine locations, and manage their miners and business. Functionally identical to the Logger role, minus the storyline.
Mine Tycoons can start their businesses in Annesburg, Colter, and Gaptooth Breach.
Each Mine will cost 20 Gold bars, but yield the same payouts as the Logger role for Unprocessed Ore and Refined Metal. The lower investment is a reward for reaching the rank of 'Trades Master'.
Unlocks (In order):

'Metal bar' interior decorations.
'Smeltery' camp upgrade – Players can stir a vat of metal once per day at their camp, which will give their Mine a 10% production speed boost.
'Chalice' custom coffee mug.
Golden Pickaxe Melee Weapon.
50% off all further weapon metal and inlay tint prices at any gunsmith.
'Industrial Stove' estate upgrade – Allows new recipe unlocks for player dinners.
Family Flashbacks:
Much akin to GTA Online's "Short Trips", the "Family Flashbacks" take players into co op missions starring fan-favourite storymode characters.
John Marston's ranch at Beecher's Hope is now an instanced interior for posses. Players can sit around the dinner table for a meal with the Marstons. Here, each of the family members will have a random story to tell. The players will inhabit the characters in the order they are listed in respect to when they joined the posse. Matchmaking will randomise any additional players.
John's Story:

The Blackwater Robbery, starring John, Dutch, Sean, Bill, Micah, Javier and Lenny. It shows how the boat heist went wrong and the gang's escape as they get separated from one another and have to flee.

Abigail's Story:

Girl's Night In, starring Abigail, Susan, Molly, Tilly, Jenny, Karen and Uncle. They are camped near Armadillo, and are attacked by raiders as they have to defend the camp whilst the rest of the gang are out elsewhere.

Uncle's Story:

Legends Past, starring young Uncle, Red Harlow, young Cripps, young Maggie, young Landon Ricketts, young Limpy Pete and young Phil the Crab. The old legends plan a daring train robbery as it passes through Ambarino.

Jack's Story:

Fables, Forever, starring John Marston as Merlin, Arthur Morgan as King Arthur, Charles Smith as Sir Lancelot and Sadie Adler as Guinevere. Jack tells the story from one of his books, playing the narrator. The characters are in constant melee combat against "Evil witches" in the Bayou. Every now and again, the protagonists portrayed by the players will break the fourth wall asking things such as "Are you serious" and refusing to follow the script.
Miscellaneous Changes and Additions:
Outlaw Pass has outfits based on Jack's stories from Family Flashbacks, giving players medieval remixes on the storymode protagonist's outfits.
Tall Trees and Cochinay are now lightly dusted with snow all year round.
Less citizens can be seen around Tumbleweed, and the shopkeeper will now make remarks about how miserable the town has become.
Added a variation of new lines to 'Blind Man Cassidy', including:

"The girl, so much pain!"
"New lands, new horizons, new opportunities."
"Watch out for your friends, for they are walking on dark paths."
"Build bridges. That is where the future lies."
"Revenge is a fool's game, but it sometimes shares rules with the righteous pursuit of justice."
Justification:
Carrying on from the eleventh update of the Ultimate Concept Bundle, I wanted to work on something new whilst addressing the final fan requested updates that I hadn't been able to yet fully conceptualise. These extra five updates give us a developing story full of highly-requested features and lead into a Red Dead Redemption remaster that, if my roadmap was implemented right now, would release on the game's 20th anniversary and perfectly round off Red Dead Online as a complete experience. This update begins the period of time between RDR2's epilogue and RDR1 with features we saw in GTA's "The Contract" DLC, with Family Flashbacks bringing back fan-favourite characters from the singleplayer.
The Mine Tycoon side-role allows players to indulge their business tycoon dreams whilst benefitting their wallets. Functional similarity keeps development easy and means it'll be a comfortable and familiar role for players to adopt too.
Having homesteads be in instanced locations allows players to fulfil their dreams of building their own home on the Frontier without it having to conflict with other players.
I really like the story of the four story missions I released too, ending with an overall loss for the player character which keeps everyone invested in what comes next – and thirsty for revenge!
Seasonally, I decided not to have as many live events through each of these patches, allowing Rockstar to focus on the narrative for the main story of our characters, as well as allocating more development on the larger updates (Mexico, RDR expansion, etc) in order to have everything released in a timely manner.